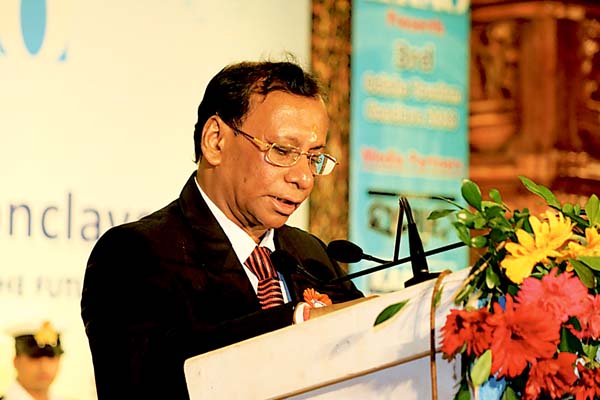 Bhubaneswar: Hotels and Restaurants Association Odisha(HRAO) Chairman J K Mohanty today said Odisha could be the tourism capital of the country if it is connected by Air with more countries. Addressing newsmen here on the sidelines of the Odisha Travel Bazaar (OTB)being jointly organised by the state Tourism department and FICCI from October 14 to 20 Mr Mohanty said more international flight connectivity is needed to increase the footfall of foreign tourists to the state.
He suggested the Tourism Department take up the issue with the Ministry of Civil Aviation for the operation of more domestic and international flights to and from Biju Patnaik International Airport. The Tourism Department, the HRAO Chairman said should approach International Airlines such as Etihad, Fly Dubai, Singapore Airlines to start direct connectivity to Bhubaneswar.
Sri Lankan Airlines that operates 3 flights to Kolkata can be requested to fly at least one flight to Bhubaneswar, Mr Mohanty who is also FICCI National Tourism Committee Co-Chairman said. He said the Foreign Tourist arrivals have not increased as compared to states like Maharashtra, Tamil Nadu, Uttar Pradesh, West Bengal, Rajasthan, Delhi, Punjab, Kerala, Goa due to lack of international air connectivity, poor infrastructure and non-availability of star-category of hotels at most tourist destinations of the State.
Over the last two years, hotel supply grew by 3.7 per cent in 2017 and 3.5 per cent in 2018, Mr Mohanty said adding that the supply of room is anticipated to grow by four per cent and demand by 7 per cent in 2019. In the case of Odisha, the growth in Supply of rooms is very very poor resulting in decreasing in foreign tourist arrivals to the State.
While Kerala has 15,791 rooms in 563 approved classified hotels, Maharashtra has 15,318 rooms in 90 hotels, Gujarat Has 6,272 rooms in 80 hotels Odisha has only 600 rooms in eight hotels. Mr Mohanty said the inadequate number of star hotels and shortage of budget hotels are the biggest constraints as far as tourism development is concerned in Odisha.
He said more such classified hotels should come up to providing better accommodation facilities for the tourists. Around five thousand additional number of hotel rooms should be set up to compete with the hotel infrastructure of the other states of the country.
The HRAO chairman requested the state government to give 30 per cent capital investment subsidy with a cap of Rs.20 crore per unit and interest subsidy of 5 per cent in the coming 2020 tourism Policy till repayment of Term Loan for each unit with a maximum period of 9 years.
The incentives may be given for 5 years during which the shortage in hotel rooms can be filled up fast by the private sector. Mr Mohanty also suggested the government to develop infrastructure in the popular tourist destination of the state to woo more tourists.
He said Odisha has the tourism potential with its art, craft, culture, cuisine, architecture, temples, mountains, beaches, lakes." We need to market Odisha as a product for travellers, young and old, where we create happiness." Mr Mohanty remarked.
231 Views