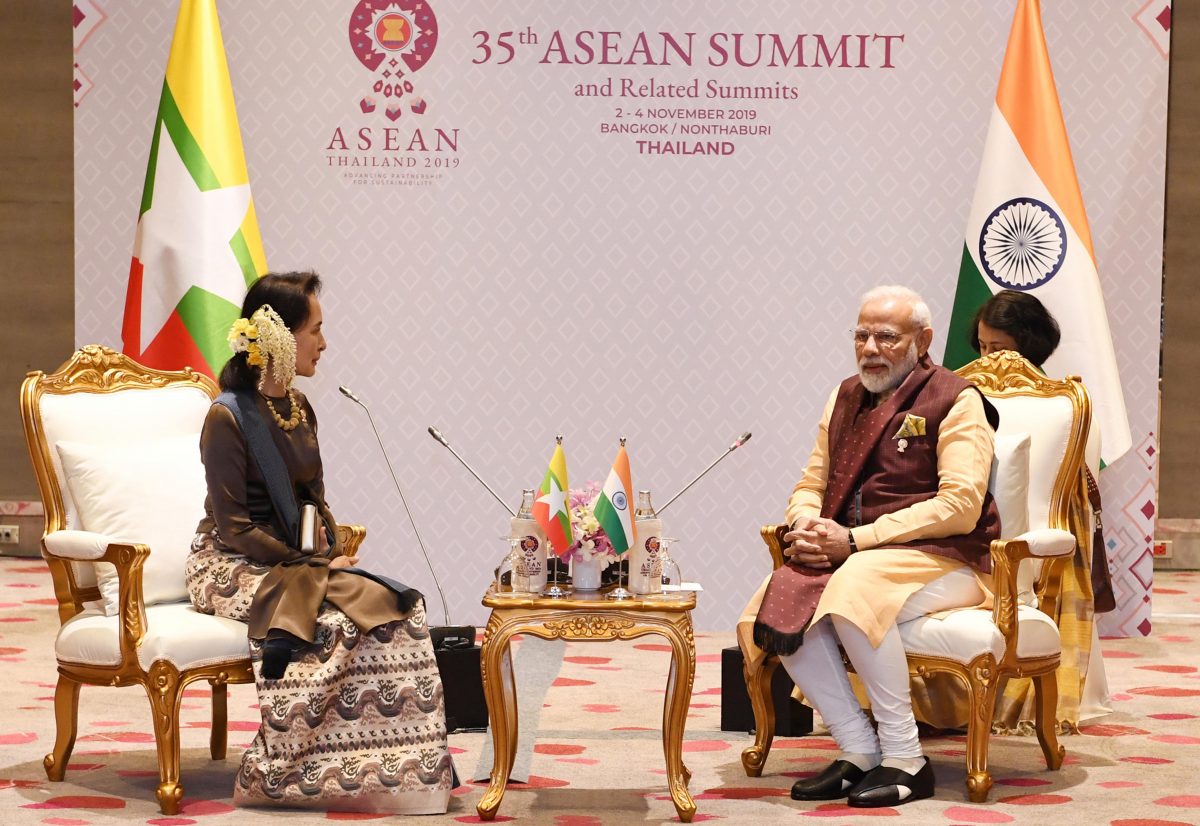 New Delhi, Nov 3 (UNI) Intitiating the process of signing a peace pact with Naga militant groups while also taking three-Naga inhabited states of Assam, Arunachal Pradesh and Manipur on board, the Indian government unambiguously clarified that it reposes faith in Myanmar vis-a-vis functioning of the insurgent groups from the South-east Asian nation. At a bilateral meeting with Myanmar's State Counsellor Daw Aung San Suu Kyi at Bangkok, Prime Minister Narendra Modi emphasised on the value 'India attaches' to Myanmar's cooperation in "ensuring that insurgent groups do not find space to operate across the India-Myanmar border".
The reference is significant in view of recent developments in connection with Naga peace talks. Mr Modi's reference to Myanmar's positive role in tackling insurgent groups in India's eastern neighbour is crucial as time and again it has been suggested that if talks fail and even otherwise, some disgruntled militant elements could try to crossover to neighbouring countries looking for safe havens.
It also goes without saying that the essential issue that ought to be kept in mind is that the insurgency in Nagaland has 'thrived' due to cross-border implications not only within India but also beyond international boundaries. Notably from security and strategic point of view, it has been made clear that India will "continue to strongly support the expansion sphere of  Myanmar's police and military" – besides the civil servants, students and citizens.
Both the leaders – PM Modi and Myanmarese leader Suu Kyi – also agreed to maintain the tempo of high level interactions in the year ahead, recognising that "strong ties" across all areas of cooperation was in the fundamental interests of both the countries. Importantly, geographically states such as Manipur and Nagaland are located at vantage points.  In fact, in December 2018, it was emphasised by the then Home Minister Rajnath Singh that – India is at the "best of relations" with neighbouring Myanmar.
It has been also made clear that the northeastern region of India is the "pivot" of Modi government's 'Act East' policy and overall Myanmar figures as an important component in that initiative. NSCN (Khaplang) faction, which walked out of peace process in 2015, reportedly still operates from Myanmar.
18 Views