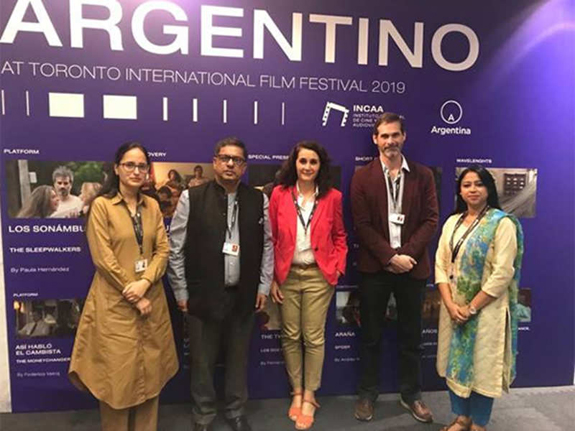 Instituto Nacional de Cine y Artes Audiovisuales (INCAA), the National Institute of Cinema and Audiovisual Arts, Argentina on Saturday invited India to participate in their premiere film festival 'Mar del Plata International Film Festival 2019' and 'Ventana Sur 2019'.
As part of the outreach for the Golden Jubilee edition of International Film Festival of India (IFFI), the Indian Delegation at Toronto International Film Festival (TIFF) 2019 met INCAA.
"INCAA expressed that India should participate in the premiere film festival of Argentina – Mar del Plata International Film Festival 2019 and also in Ventana Sur 2019, which is attended by the entire Latin American community, with a possible Indian Delegation to Argentina to initiate dialogue on co-production between the two countries," an official statement of Ministry of Information and Broadcasting said.
The Indian Delegation met Viviana A. Dirolli, Executive Director, Diego Marambio Avaria, International Affairs Coordinator, INCAA.
"The objective of the meeting was to seek out INCAA's help to reach out to Argentina Government for IFFI 2019, potential of exchange between the countries and possibility of co-production treaty between India & Argentina," the statement added.
Indian Delegation apprised them about all the policy initiatives and framework of Indian Government, ease of shooting and launch of the Web portal – www.ffo.gov.in – for online application for shooting at a single point.
Further they were notified of the preparations that were undertaken by the Government for the 50th anniversary of the IFFI. The Indian Delegation also met Jana Wolff, Head- Marketing Advertising, Berlin International Film Festival, and discussed possibilities of a more prominent presence for India at Berlinale 2020. (UNI)
41 Views