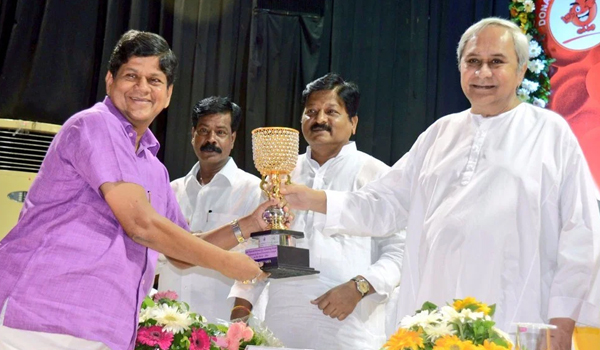 Samikhsya Bureau
Old habits die hard and when that is accompanied with an overbearing ambition, one might land in trouble. Soumya Ranjan Patnaik has shown similar symptoms of self-peril through an attempt to chop the stem he has his nest on.
It has been the case with some politicians and they always refuse to take lessons from others' mistake even. Biju Janata Dal MLA and the Editor of the leading Odia daily, The Sambad, Soumya Ranjan Patnaik, seems heading towards a similar problem of verbal diarrhoea sort of disease which had, in the past, made him face debacles in politics.
It can be seen as a simile of his earlier acts when he was in the Congress or the BJP and made remarks on the parties' policies triggering a situation where he was shown the exit door.
Patnaik ,reportedly, during a keynote address at a function , suddenly discovered a common jaundice that has plagued both, the BJP and the BJD. That is 'intolerance' towards any criticism, whether specific or generic. That was not a mere tongue-in-cheek remark but said firmly by him.
Patnaik's jeer requires hardly any allusion and the legislator from the BJD, who already had a stint as a Rajya Sabha MP from the BJD, had always shown signs, as if, he does not relish being treated as next to none and within any party. He somehow chose to play out a contrarian view when he is off the focus. Patnaik had nurtured an 'ambition for a ministerial berth which he could not get' , is the common buzz in the BJD   circles.
Going by the gossips within the BJD, Patnaik,as a politician,who  loathed isolation regardless of the reality that, he had been indeed a loaner for very long till chief minister Naveen Patnaik, for whatever reason, handpicked Soumya Ranjan for the Rajya Sabha thus granting him a new lease of life in politics, which his parent party the Congress never thought it safe to readmit him in the party.
Now, his present posturing on both the BJD and the BJP, by which he meant to train the gun at Naveen Patnaik and Prime Minister Narendra Modi, dubbing them as intolerant to any kind of criticism, which the legislator has prophesised as a danger for democracy. He may have reasons of his own to say what he said, but being in politics of the day, he could have chosen different means to ventilate it than being so upfront.
If Patnaik means what he said then, political observers foresee a bumpy ride ahead for Soumya Ranjan . It is a repeat act what he had done being in the Congress and bore the brunt and never recovered from a beaten track till BJD open the door.
He should not have played the role of an arbiter for good and bad politics. He must make his choice clear if he wants to climb up in the ladder or play an ombudsman    role.  Choice is his and he must be aware of it that, he cannot measure himself up to a stature of his choice.
111 Views