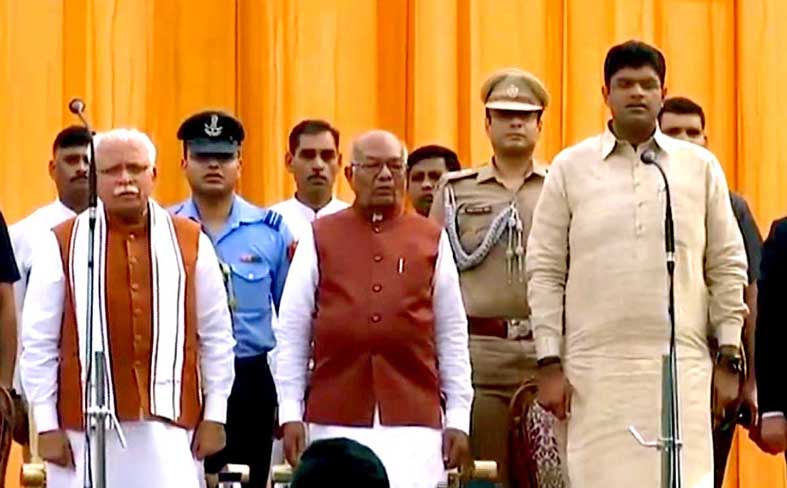 Chandigarh, Oct 27 (UNI) BJP leader Manohar Lal Khattar on Sunday sworn-in as Haryana Chief Minister for the second consecutive term in a coalition government with Jannayak Janta Party (JJP), whose chief Dushyant Chautala, also took oath as the Deputy Chief Minister of the state.
At a function held at Raj Bhavan here, Governor Satyadev Narayan Arya administered the oath of office and secrecy to Mr Khattar and Mr Chautala. Apart from these two, no other cabinet or minister of state took oath. As per reports, the Council of Ministers of the new government would be sworn in later.
BJP National Executive President Jagat Prakash Nadda, Himachal Pradesh Chief Minister Jairam Thakur, Shiromani Akali Dal (SAD) Patron and former Punjab Chief Minister Prakash Singh Badal, BJP general secretary BL Santosh,Dr Anil Jain, Chandigarh Pradesh BJP President Sanjay Tandon and other senior leaders of the party and senior officials of Haryana Government were present on the occasion.
The Assembly elections were held here on October 21, wherein BJP emerged as the largest party with 40 seats, however, was six short of the halfway mark needed to form the next government. However, the Hindu nationalist party formed the new government with the support of  JJP MLAs and  independent candidates of the state as no party could get a majority on its own during the counting of votes on October 24.
According to sources, no consensus has been reached between cabinet ministers and their departments in both the parties. Independent MLAs can be nominated as ministers in the government. According to the members of the State Legislative Assembly, only 13 candidates can be made ministers and in addition to that only one each will be given the position of Speaker and Deputy Speaker. The cabinet would be sworn in the following days
22 Views