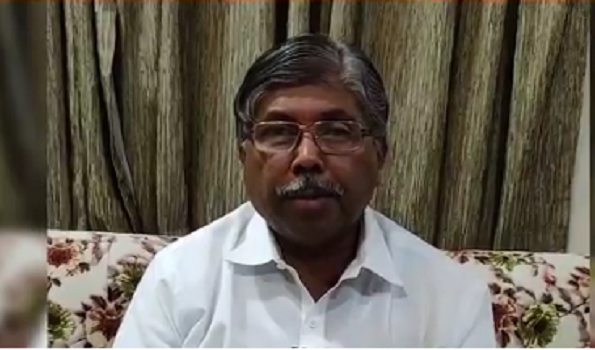 Kolhapur, Oct 27 (UNI) Bhartiya Janata Party (BJP) state president Chandrakant Patil on Sunday hailed the   Shiv Sena patron Bal Thackeray, saying he always kept 'values in politics.' In a press conference here, Mr Patil , who arrived in the city for the first time after assembly election, in which he was elected from Kothrud assembly election in Pune district, said that late SS chief Balasaheb Thackeray has always kept values in politics in his regime and his son and SS chief Mr Thackeray are following those values.
Mr Patil was answering a question whether Mr Thackeray would take support in formation of anew government. He said that top leaders of both alliance partners BJP and SS would discuss on the formation of the government and they also discuss on chief minister, deputy chief minister post and other important cabinet portfolios, which wanted by both parties and if there was need then BJP's top central leaders will intervene in this issue.
He also said that there was no possibility of swearing-in ceremony of new government on October 30 or 31, however he expressed confidence that BJP SS alliance partners would definitely form a new government. SS senior leaders should talk practically and it was his procedure, Mr Patil replied on SS senior leader Sanjay Raut's today's statement that 'a brush is in Mr Thackeray's hand how to draw a picture on canvas'.
He said that the party  has already began think over the overall election results and would introspect about the results. However the party  would take stern action against who worked anti party in assembly election and contested election as rebel candidate and party's Discipline Committee has already serving notices to such party leaders and rebel candidate. On defeated candidates like state rural development minister Ms Pankaja Munde, Ram Shinde and in loksabha by-election candidate from Satara parliament constituencie Udayanraje , Mr Patil said the party would consider defenitly about their proper political rehabilitation.
On discussion of BJP's so called 'defeat' in this election, Mr Patil said that in last 2014 assembly  election BJP had won 122 seats with strike rates of 44 percent and in 2019 election BJP won 105 seats with 67 strike rates and also elected 20 rebel and independents candidates, who also supported the BJP, which rally goes upto 125, and added that there is no 'question of defeat .'
21 Views