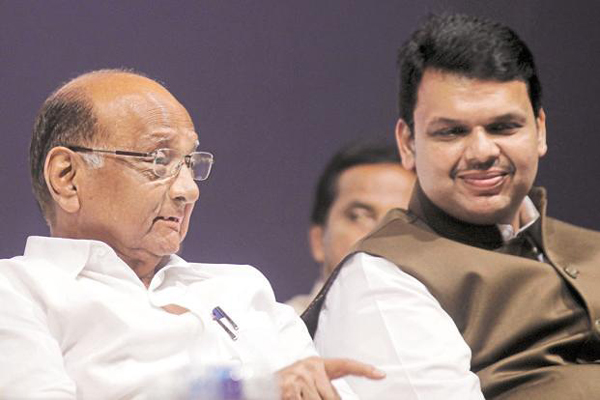 By Nirendra Dev
Maharashtra politics has only got murkier after Sonia Gandhi-Sharad Pawar and Amit Shah-Devendra Fadnavis meetings. Things are far from clear on the formation of new government, but a question that is seeking answer is – in the ultimate who wins the bigger battle – Devendra Fadnavis or Sharad Pawar.
For long Maharashtra has been a virtual 'fiefdom' of Marathas and the NCP founder and often his capacity has been 'overestimated' too; but since 2014, the incumbent Chief Minister  Fadnavis has sought to change the scenario. Many would even call Fadnavis 'a new generation Pawar' – a description  Fadnavis does not endorse nevertheless.
Politically, he earned huge kudos when Prime Minister Narendra Modi told a 'victory meet' gathering in Delhi on October 24 that to remain in office for five years – a record in last five decades – has been by itself a great achievement for  Fadnavis.
From caste point of view,   Fadnavis is state's only second Brahmin CM and politically he has made things difficult for others.
Against him in the political chessboard is veteran 'Maratha' Sharad Pawar (79) – who braved lashing rains and addressed election meetings and personally led the NCP's battle from the front. Those in the know of things say – a 'weakened Congress' and Sena's enhanced 'bargaining power' with BJP has actually given a "sharper edge" to Sharad Pawar. The present scenario suits Pawar politics.
Sharad Pawar loyalists also say  Fadnavis has erred in making personal attack against him as the Maratha strongman still has come cards close to his chest.
84 Views