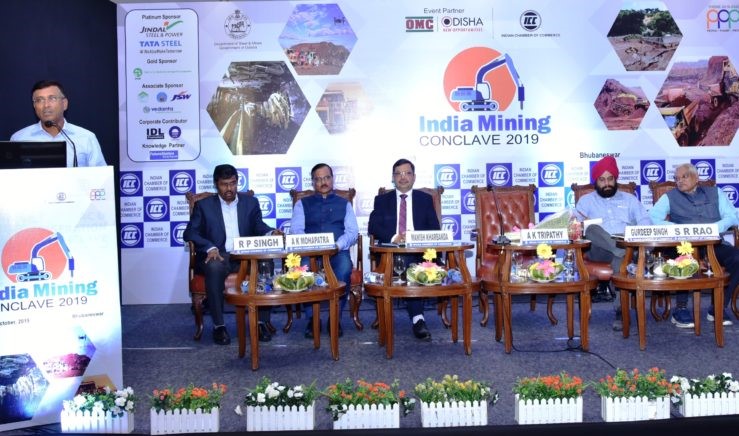 Samikhsya Bureau
Bhubaneswar:- Miners today urged both the Union and the state government to initiate steps for the timely auctions of mines and smooth transition of Forest and Environmental clearances for the continuity of mining operation. The request was made as to the miners and the mineral-based industries feared that the supply of raw materials to the plants would be affected as the lease period of 24 mines in Odisha will end on March 31 next year.
The miners and the captains of the industries deliberated on various issues during the two ?day India Mining Conclave organised by Indian Chamber of Commerce (ICC) that ended here today. Summarising the views arrived at the conclave Convenor of steel and mines committee of ICC Odisha State Council Manish Kharbanda, urged the state government to give a proposal to the Union government for embedment of Forest and Environmental Clearance in a mineral block auction process for seamless continuation of the mining operation.
Mr Kharbanda said in Odisha the lease period of 24 mines, will expire on March 31, next year. He said if the smooth transition of production will not happen then mining will come to a grinding halt leading to raw material pressure on industries working here. The ICC, he said, suggested the State Government follow the same rule for the auction of both coal blocks and non-coal blocks.
Mr Kharbanda said ICC suggested the mining industry to give more focus on Beneficiation. "India produces 150 million tonnes of low-grade minerals and out of that 80 million tonnes is produced only in Odisha", he added. The problem of shortage of iron ore could be solved if value addition is made to these minerals.  The ICC, he said, viewed that Logistics cost in Odisha is in the range of 25 per cent to30 per cent. Transport tariff for steel and the steel-related product should be reduced to make domestic industries cost-competitive.
ICC suggested the mining industry to use various digital ideas like drone and telemetric technology to increase efficiency in operation. It also requested the government to consider the participation of mining companies in District level DMF committees and to address the local challenges owing to blockades, strikes and restrictions on the movement of mineral transporting vehicles.
21 Views