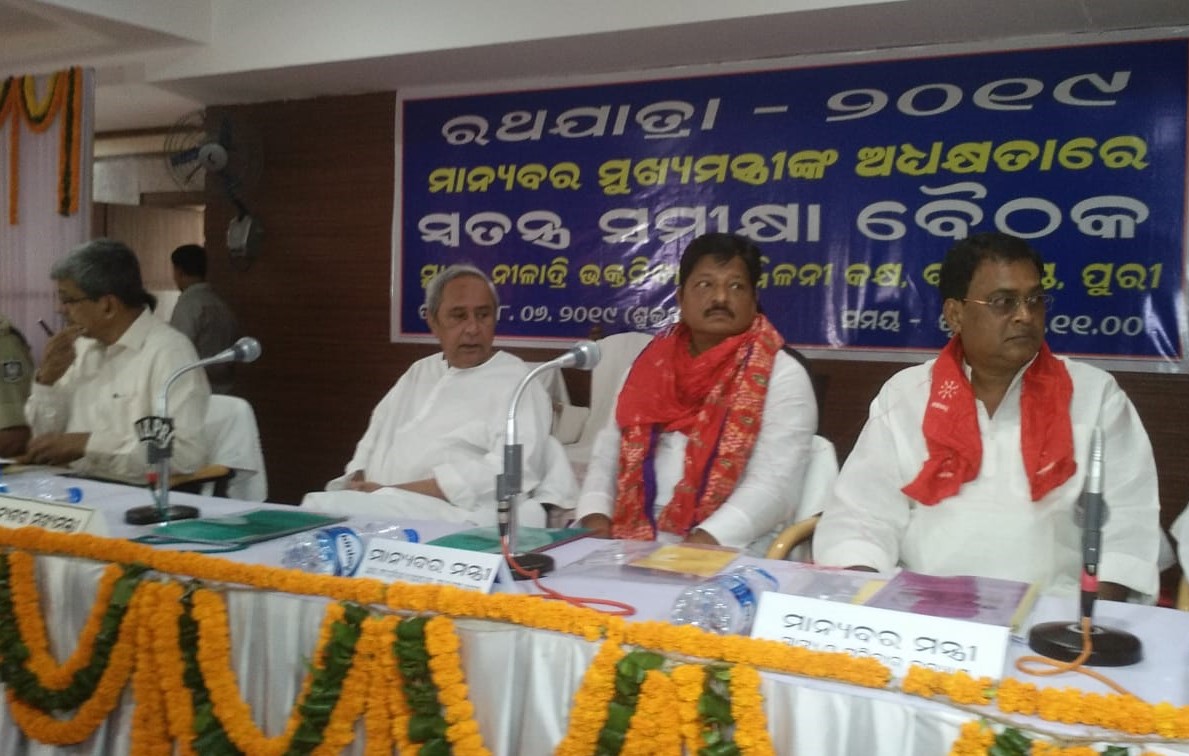 Samikhsya Bureau
Chief minister Naveen Patnaik on Friday sought cooperation from  all and urged servitors to perform their duties with dedication to make the Puri car festival a success.
Patnaik who chaired a review meeting on the progress of car festival also advised the authorities to ensure safety and comfort of visiting pilgrims during the  festival. This was the third and final meeting before the annual Rath Yatra on July 4 . Earlier the revenue divisional commissioner took the first meeting while law  minister Pratap Jena had taken the  second meeting.
Puri chief district medical officer Amarendra  Mohanty said that 187 doctors, 400 para medical staff, 30 ambulances would be  deployed to cater to the needy while  117 additional beds would be provided to indoor patients. Besides 200 bottles of blood of different group would be kept in reserve.
A total of 41 drinking water  tankers would be stationed at various places of the city to provide  drinking water and hundreds of tube wells were installed besides the  regular stand posts. The Cesco engineers informed that supply of power has been restored in the city and suburbs while power gen sets would be kept ready.
At least 200 more passenger buses would ply to the city and a number of parking areas have been made. Tolgate in Pipili along the NH 316 would be free for three days during the Rath Yatra, Bahuda  Yatra and Suna Besha . About 43,000 tonnes of slush and garbage was extricated from the city drains, officials said.
A total of 973 safai workers would be on cleaning duty the civic body, according to executive officer Bijay Das.  The administration has deployed 155  platoons of police personnel besides 100 officers of various ranks and plain cloth intelligence sleuths to maintain law and order during the festival during which the  city would be brought under CCTV coverage.
The chief  minister launched the incense stick manufacturing programme of ITC brand  Mangaldeep, a green temple project of ITC in partnership with Sri  Jagannath temple administration and Odisha Rural Development and Marketing Society (ORMAS). As per the agreement  between the partners, the raw materials would be provided to the women  self-help groups by the ITC. They would prepare the sticks and those would be packed by the company while ORMAS would market the product. On the sale proceeds of every pack, the temple would get Re.1 to Rs.2, they said.
Later  in a press meet ITC CEO Ravi Rayvaram and executive  director B. Sumant told the media persons that this venture was unique as it contained the favourite fragrance of Lord Jagannath like Kasturi, Chandan, Tulsi and Neem. This would help generate self employment for hundreds of rural women in the state, they said.
Several ministers, local legislator,state chief secretary A.P. Padhi, director general of police R.P. Sharma and other senior police and civil officials were present  in the review meeting.
37 Views