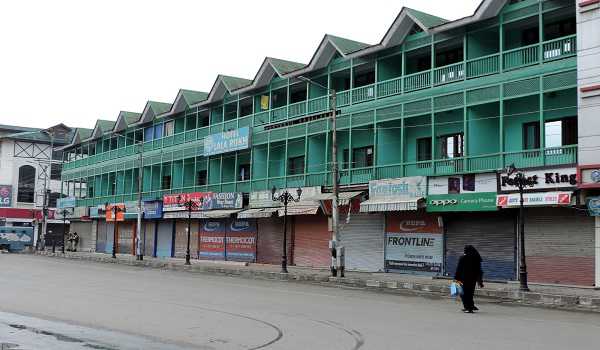 Life remained crippled for the 61st day on Friday in Kashmir valley, where people are protesting against scrapping of Article 370 and 35 A, besides bifurcation of the state into two Union Territories on August 5.
Additional measures have been taken to prevent any demonstration after Friday prayers.
Officials said that there were no curfew restrictions on Friday in any part of the valley. However, restrictions under Section 144 CrPC, banning assembly of four or more persons, continued as a precautionary measure to maintain law and order.
Situation remained by and large peaceful barring reports of few incidents of stone pelting in the valley, where train service, mobile and internet connectivity remained suspended since August 5.
Educational institutions also remained closed with only teachers and other ministerial staff attending their duties as students continued to stay away from their classes.
Meanwhile, the historic Jamia Masjid in the Shehar-e-Khas (SeK), stronghold of moderate Hurriyat Conference (HC) Mirwaiz Moulvi Omar Farooq, remained closed for devotees since August 5. Large number of Central Paramilitary Forces (CPMF) remained deployed in the Jamia Market and outside the Masjid to maintain law and order. No prayers could be offered in the Masjid, including on Fridays, due to restrictions. Additional security forces were deployed to prevent any stone pelting and demonstration after Friday prayers.
Security forces had closed one tube of the Nallahmar road at different places in the downtown, where shops and business establishments remained closed and traffic remained off the roads.
Business and other activities remained closed in summer capital, Srinagar and its adjoining areas for the past 61 days while public transport, including State Road Transport Corporation (SRTC), was off the roads on Friday. But, private vehicles were plying on most of the routes in the city and outskirts while a number of cabs were also seen plying on district routes from Srinagar in the morning.
Shops and business establishments were seen functioning for about three hours from 0600 hrs to 0900 hrs in the summer capital, including historic Lal Chowk, the nerve centre of the city and other civil lines areas.
CPMF were seen deployed in strength in the city to prevent any law and order problem. Though there was no restriction on any road, security forces remained on high alert to close any road with barbed wire within shortest notice. Work in government offices and banks on main roads, particularly in the ground floor, remained affected.
Elsewhere in the valley, life remained paralysed with all shops and business establishments closed and traffic off the roads on Friday.
Reports receiving from south Kashmir said that restrictions under section 144 CrPC remained imposed in Anantnag, Shopian, Pulwama, Awantipora, Tral and Kulgam. Business and other activities remained shut and public transport was off the roads. However, private vehicles could be seen plying on some routes, including on Srinagar-Jammu national highway, where additional security forces remained deployed on the highway to prevent any stone pelting.
Shutdown continued for the 61st day in this and other north Kashmir districts and tehsil headquarters, a report from Baramulla said. Large number of CPMF remained deployed to prevent any law and order problem. However, private vehicles and some cabs could be seen plying on the Srinagar-Baramulla highway. Reports of continued strike were also received from central Kashmir districts of Budgam and Ganderbal.
The internet and mobile connectivity of all Cellular companies, including Bharat Sanchar Nigam Limited (BSNL) also remained suspended for the past 61 days in the valley. However, landline telephones are working normally.  (UNI)
28 Views