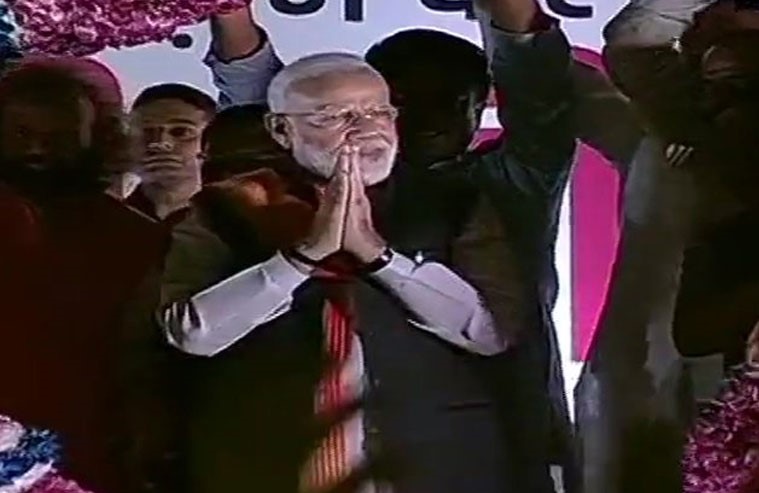 New Delhi, Sep 27 (UNI) A day after displaying a 'global statesmanship' at the 74th UNGA session and wrapping up the week-long US visit on a very positive note, Prime Minister Narendra Modi arrived here at the Delhi airport on Saturday to a grand reception from fellow countrymen.
The Delhi BJP, which had rolled out a red carpet for the Prime Minister, made huge arrangements to welcome the PM, with  around 50000 people lining up along the 2-3 km stretch from the airport. Thousands of people, including musicians, dancers and other artists, dressed in traditional attires, thronged this stretch hours before PM's arrival. The people were also seen waving the national flag.
Bharatiya Janata Party (BJP) leader Vijender Gupta and Delhi BJP General Secretary Siddharthan were seen at the airport, way before PM's arrival, inspecting the arrangements made by the party. Big banners stating 'Welcome Modiji' were erected across different locations in the city.
Elaborate security arrangements have been made at the place during the arrival of Prime Minister. Around 2000 security personnel of Delhi police have been deployed to keep strict vigil across all the sensitive locations.
Delhi police Deputy Commissioner of Police (DCP) Central Zone Mandeep Singh Randhawa said that the security arrangements have been done keeping in mind the anti-terrorist point. "All the senior officers of the squad are monitoring the entire arrangement and some staff has also been deployed at the roof top.", he said.
The Delhi police also sounded a heavy traffic alert on NH 48, Dwarka link road and Dwarka Underpass near Airport. "Motorists are requested to avoid these routes and take alternate route for Dwarka" the department said in a tweet.
Mr Modi, in his much awaited address at the UN General Assembly on Friday after his week long stay in the United States and the series of high-level bilateral engagements, reaffirmed India's belief in multilateralism at the global platform and said that India will continue to make efforts to make the nation and the world a better place.
Tags:
27 Views