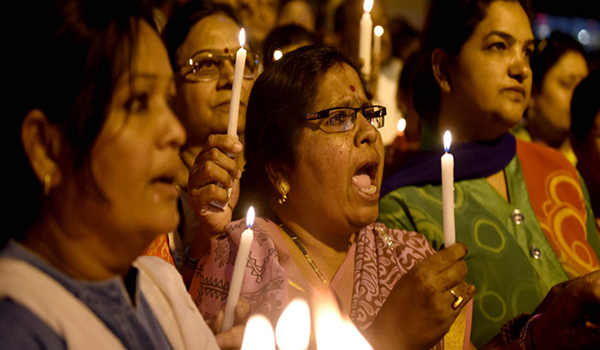 Satish Samant
Rising incidents of rapes and dastardly outrage in Odisha have become a cause of concern . No day passes when such a shameful incident does not hog the headlines. And what adds to the problem is the tardy enforcement of laws. Which consequently leads to a situation when the perpetrators get a free run.
Be it Kunduli, Pipli or a series of such outrages still go on amid voices echoed from across board as why such menaces linger to stay within the limits of investigations and media debates only. Even a robust judicial system the sinners go on with the crimes. Reason is, there is no fear of punishment.
According to the national crime records bureau (NCRB) 2013 annual report 24923 rape cases were reported across India out these 24470 were committed within known circles when perpetrators lure the victims and in many such incidents the parents vigil fails. Most of the victims are teens or school going.
Today, sexual outrage has become a danger that looms over each young woman and the wicket acts do not spare babies even.
Though they are covered with constitutional protections but the  incidents keep spiralling out of proportion reducing the law and order mechanism pathetically ineffective. Rape is an action  that takes place from two aspects, intentional and in a state of inebriation  .In India rape is the third common crime against women .
Recent data reveal India scored a highest number of rapes, collected through all high courts and compiled  by the registry reveals a depressing picture about law lacking the deterrent teeth.
Current year it portrays a ugly picture ,as many as 24212 FIRs were registered by police across India on child rape .Of these 11,981 are still under investigation ,while in 12231 cases have been  charge sheeted  . But trial has commenced in 4871 cases .Trial courts have decided only 911 cases or just 4% of the total cases.
Another feature of intentional rape is consensual sex is that takes place out of mutual consent or promise for marriage    when ,girl gets emotionally trapped  and  surrender herself.     In India these types of incidents are quite endemic remain hidden mainly because of social stigma and fear of insecurity .
What is also important is the role of media that many cases fail to get the due attention. The case of Nirbhaya had rocked the national conscience which forced the government to make separate law to make things fool-proof.
But politics plays the role as a hindrance for the investigating agencies or the police. Few most recent incidents in Odisha have remained focussed but the delay in justice is surprising. Whether girls face the outrage in the open or instances of such incidents even in schools and shelter homes have shamed Odisha.
To check such practice, a noose should be tightened with zero tolerance. Stringent mechanism should be ensured for early disposal and conviction.  To sensitise from the roots,  a class room programme should be held in schools about awareness.
But so many factors come on the way to mitigate such ills. Lack of exemplary punishment is what must be envisaged as a major deterrent and secondly creation of fast track courts to avoid pendency of cases.
(Satish Samant is a freelancer)
49 Views