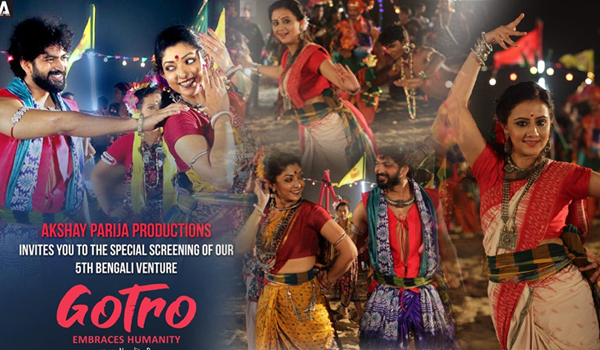 Kedar Mishra
To write about a Bengali commercial movie can hardly be my area of interest, but I am into it, simply because, this film deals with two of my strong fascinations: the idea of religious harmony and the idea of Odisha. When Bengal is going through a terrible phase of communal tension, a film on religious tolerance and humanity is important to heal wounded hearts. At the same time as an Odia, I am simply awestruck by the film's depiction of Odisha as the land of peace and tolerance. Shiba Prasad Mukherjee, the director of the newly released movie "Gotro", looks at Odisha as the prime citadel of religious harmony. Its an irony, a comic misfortune for we the people in Odisha. Here is a Bengali film is so full of Odisha and the idea of Odisha, but back home we do frame to frame copy from South movies.
"Gotro" or the clan is a film jointly produced by Shiba Prasad Mukherjee and Akshyay Kumar Parija celebrates the unique Hindu-Muslim synthesis of our social fabric. The story line goes in a predictive path, but powerful dramatisation of a predictive story line makes the film watchable. As a critic I can go on counting the problems and glitches in the film, but here I am more enamoured with the Odia connection of a Bengali film.
The story line captures the culturescape of Odisha with great enthusiasm. The myth of Dhauli and the memory of Ashoka, the great comes in the story as climax. The transformation of a young and agitating young man happened here, at the bank of river Daya. The Mazar of Bokhari Baba in Kaipadar featured in this film as a very important-life changing backdrop. Finally the film sings and dances with iconic Rangabati song with whole cultural panorama of Odisha at its back ground and most importantly identifying Odisha as the land of the most tolerant humanism.
For me "Gotro" is an important film, not for it's artistic marvel or great dramatic excellence, but only for its powerful message .It takes human as a clan and the story ends with a powerful message of humanity. As an Odia I thank profusely both Mr. Parija and Mr. Mukherji for showcasing Odisha to Bengal with so much of love and care.
Tags:
644 Views