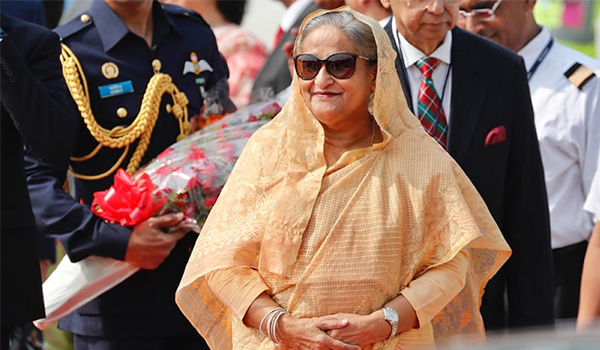 The shortage of onions and the high price of the essential ingredient in food in the sub continent have often brought tears in common people's eyes and the anguish get reflected in people's mandate as well.
But today, it was Bangladesh Prime Minister Sheikh Hasina lamenting on the onion crisis in her own country.
Addressing a function here she said, "…there is lot of scope for further deepening relationship between India and Bangladesh in the area of trade and investment".
Speaking in lighter vein, she went onto say: "Pyaaz le key thoda dikkat ho gaya hamare liye (We faced crisis, when it came to onions)".
"Mujhe maloom nahi kyun aapne pyaaz bandh kar diya? Maine cook ko bol diya ab se khana mein pyaaz bandh kardo (I do not know why you suddenly banned onion export. I told my cook, henceforth prepare food without onion)," she said and threw the entire gathering into peels of laughter.
The reference was to the Indian government decision to ban export of onion with effect from September 29 after the local prices of the essential commodity shot up.
The onion is an essential ingredient of the cuisine of many regions in India and also in Bangladesh and Pakistan.
Bangladesh Prime Minister, who is on a four-day visit to India since October 3, said "it would have been good of there was a prior short notice on the ban of onion export from India….then we could have had purchased from elsewhere"."Achanak apne band kar diya, aur hamare liye mushkil ban gaye (Suddenly you ordered ban on onion export and we have to face the brunt)," she said.
Hasina also counseled Indian authorities – "If you do anything such in future, please let us know in advance".And as the audience clapped in response to her speech, the visiting dignitary thanked the audience saying "Dhanyavad".
In a rather knee-jerk reaction, on September 29, the Indian government had ordered ban to export of onions with immediate effect with the hopes to curb price rise.
The move came in the wake of the rising onion prices following months of incessant rainfall and flood-like situation in onion-producing states and that has led to public outcry.
Since the ban, reports said Bangladesh had to turn towards Myanmar, Egypt, Turkey and China to increase supplies in a bid bring prices down. India exported 2.2 million tonnes of fresh onions in the 2018-19 fiscal year.  (UNI)
234 Views