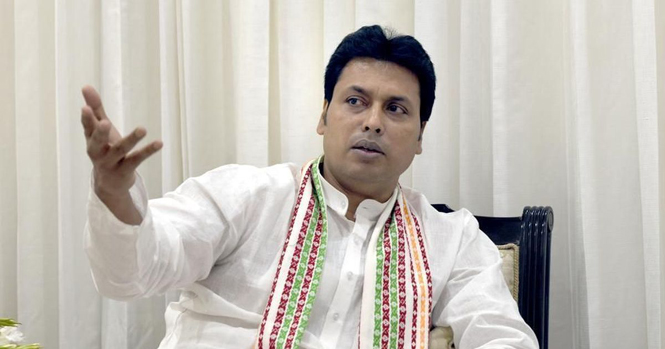 Amidst controversy over vendetta politics of BJP after initiation of legal action on an anticipated corruption of Rs 164 Cr against CPI (M) central committee member and former PWD minister of the Left Tripura government Badal Choudhury, Chief Minister Biplab Kumar Deb reiterated that he will continue the haunt corruption committed by previous government while addressing a religious function at Bishalgarh yesterday.
Deb said there was large scale corruption in the implementation of projects, purchases, contracts and infrastructure development during 25 years rule of the Left Front government. But the role of the main opposition Congress was not satisfactory, which generated doubt among the common people whether the opposition leaders were also gratified in the process.
"Ensuring clean, corruption-free transparent government was one of the important commitment of BJP in Tripura and people of the state voted me to power for getting justice of those criminal, unethical and misdeed of communist governments. If somebody said filing FIR based on primafeci against a former minister for gross violation of rules is vindictive politics; I shall continue it at the last extent," Deb told in the gathering.
The statement of chief minister is believed to be the counter warning to the opposition after a day of top leaders of CPI (M) Prakash Karat and Manik Sarkar called upon their cadres to come on the street against BJP-IPFT government in Tripura for its alleged failure to implement the poll promises in last 19 months.
However, Deb vowed to undertake action against all the corrupt people in the politics irrespective of parties and the state administration and added, "I was elected to provide justice to the people of Tripura, which was looted by a section taking advantage of power play. All the allegations including non-banking financial companies' scam and poor implementation of government schemes would be investigated and all the corrupt people will be booked."
According to the report, besides, Rs 164 Cr PWD scam, the government has also tracked down three more big scams where the accused minister Badal Choudhury and few more officers were found involved. Apart from that scam of Rs 27 Cr in Tripura Urban Transport Company in implementation of JNNURM scheme, multi-crore seed and fertilizer scam in the agriculture department, a scam in rural development, forest and health departments has been detected.
Meanwhile, the state government has faced serious embarrassment after being failed to arrest former minister Badal Choudhury in last four days in connection with Rs 164 Cr PWD scam. He has allegedly fled away from the security trap on Oct 16 night when a session court here rejected his bail petition. The state government has already suspended as many as 10 police personnel including a DIG, SP and DSP while transferred six officers besides, changing investigating officer of the case.
The appeal seeking bail of Choudhury is scheduled to be heard by high court vacation bench tomorrow. However, the disappearance of Choudhury from cordon has put the government in trouble with his security and health.
The 73 years old Choudhury has been suffering from multiple ailments including heart disease and had gone for bypass surgery twice and is still under medication. (UNI)
Tags:
8 Views