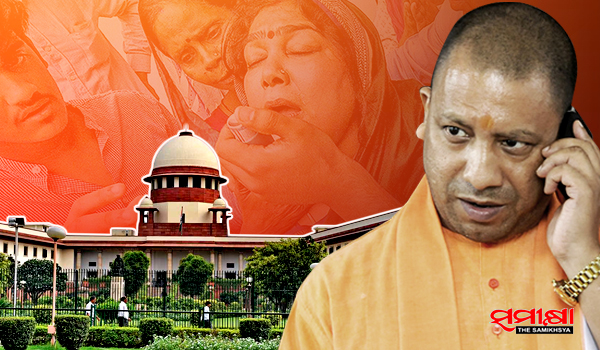 Samikhsya Bureau
What happened that the Supreme Court has to accept the looming threat to the life of the Unnao victim and her relatives battling with grievous injuries in a hospital in Uttar Pradesh. And an order was issued to shift all of them to AIIMS New Delhi for better.
Reasons are too obvious and rightly the apex court, which now has brought the case under its lens of monitor, somehow and somehow is ,perhaps, apprehensive about their safety  in a land where the writs of people like Kuldip Singh Sengar prevail.
Going by the chronology of the incidents it was abundantly clear that the perpetrator and his political mentors had a design up their sleeves to eliminate all the traces of the ghastly crime Senegar had committed.
Despite the evidences against the accused lawmaker the Bharatiya Janata Party preferred to be in a slumber of innocence and did not deem any action against Senegar. A studied caution was maintained  to see the embers of agony of the family die. Which did not happen.
Senegar was arrested and kept in custody as any other accused but that did not raise any heckles within the party he belonged to. Then an alleged deadly accident was orchestrated to finish the entire family along with the victim. It was a deadly plan aimed at elimination but God had it otherwise and the victim survived the murderous incident.
It was a gross miscalculation by the BJP dispensation that the voice of people can be gagged for long and media can be muzzled. Media rose to the occasion and struck the chord. Then Senegar was expelled from the BJP.
The bigger question is why the party leadership did not expel the man soon after he was accused of committing the crime on a minor. Was that what 'Beti bachao' slogan connote ! What was behind that selective amnesia. It is all politics that reigns supreme in this format where ideology or ideals always backpedal to the future.
Although, normal human psyche expects such culprits to be under the gallows but it is still a respite that the apex court has driven the nail and gave the two months deadline to finish the adjudication and apparise the latter.
Pending what comes out after two months but one thing that could not hide behind slogans is politics is ridden with festering sores that cannot be soothed by balm of hypocrisy.
24 Views