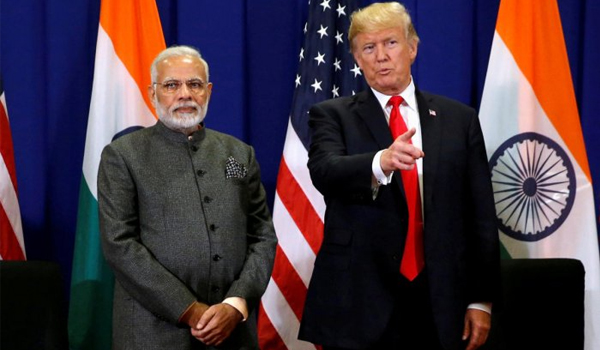 Samikhsya Bureau
As Huston extravaganza resonates the air world over, India must stand together to wish the very best to the Indian Prime Minister, Narendra Modi  for a recognition that the world must witness.
It is a moment when the heads of two largest democracies are going to be on a pedestal where the American Prez Donald Trump be with Modi in a different mood.
There is no dearth of ambitions among the Indians that the PM may fulfill through his success but there are notes of dismay back home when the nation tries to battle to wriggle out of the economic imbroglio which threatens to eclipse the nation's health.
And such issues when raised by people in India, the dispensation, that steers the largest democracy of the world, which is built on the foundation of democracy which welcomes dissent , are often described as anti-nationals. That was never the spirit in India  unlike America, where voices from the opposition is always construed as an ingredient of democracy.
It is a tight rope walk always for India to deal with a nation like US under Trump which has its inherent foreign policies to guide its diplomatic dynamics that no dispensation there ever tries to deviate from. Nor any party in power there indulge in building relationship with other countries bypassing the priorities those postulate safeguarding human rights and pleads for amelioration of sufferings of people. But, Trump has done it otherwise at occasions through his maverick traits.
Donald Trump has, at more than one occasions, demonstrated his failures in shocking notes of fluctuations. Some of his maverick posturing have even surprised many think tanks within the US.
His recent stance as regards to Iran and his subjugating mind set for Saudi Arabia exposes the lack of inhuman approach by letting blood bath in Iran. "Cost of Iran war  ? A region engulfed in bloodletting,countless  lives, many trillion$,our national security undermined,ISIS/AO strengthened,massive immigration crisis, possible confrontation between US and nuclear Russia or China.War without end because " victory" will remain undefined' tweets her rival Tulsi Gabbard, Democratic Prez candidate for 2020. .
It is the same Trump who designed to portray Modi as a leader who wanted him to negotiate between India and Pak on Kashmir, which was vehemently denied by the Indian dispensation but none in the BJP dared to dub Trump as a liar on that account. Trump did not do that without any motive and the intelligent ones could read what the American president meant. It remains a mystery if Trump was a 'liar' or there was a flip-flop by the Indian dispensation.
Trump is a man, howsoever mighty he may be, who can flabbergast people by his utterances those no sane mind can comprehend easily. It was Trump who told some scientists he was talking to, that, he plans to drop bombs in sea to halt the course of the Hurricane into Florida! It was a real shock for the scientists before they recovered from that outlandish suggestion from a man who dreams to captain the globe.
It is good that our PM stands tall there at Huston where his taller counterpart Donald Trump seems seized with his political ambitions for 2020 and the Indian prime minister, he knows, can prove to be a real man to sway the Indian diaspora in Trump's favour.
26 Views