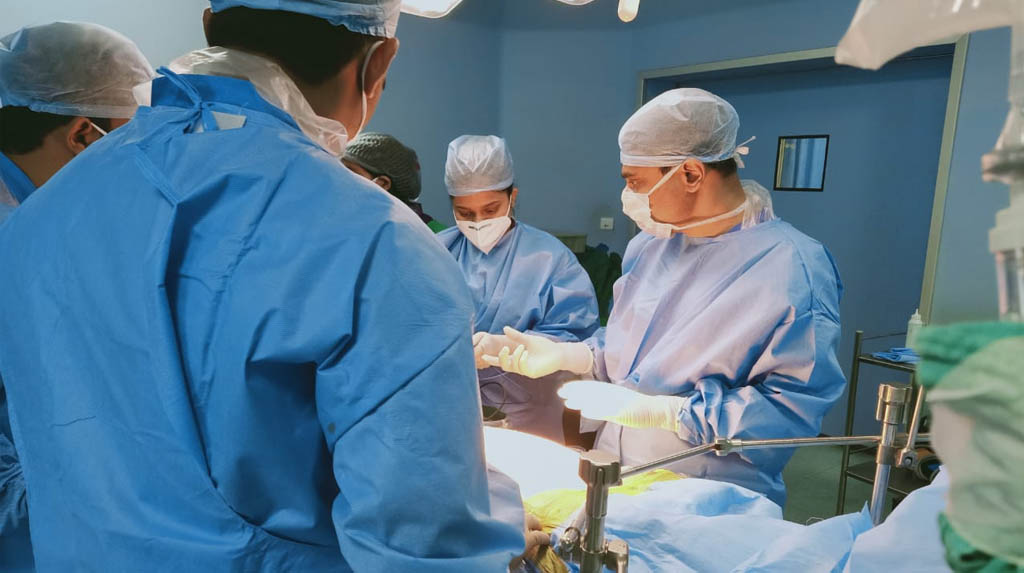 Bhubaneswar: For the second time in Odisha's medical history, a living-donor liver transplantation was successfully undertaken at the Institute of Medical Sciences and SUM Hospital, faculty of medicine of SOA Deemed to be University, here on Sunday.
The first ever liver transplantation in the state was also conducted at IMS and SUM Hospital on March 5 last.
A team headed by Prof. P.Balachandran Menon of Hyderabad-based Asian Institute of Gastroenterology (AIG) and GI surgeon Dr. Satya Prakash Roychoudhury from IMS and SUM Hospital conducted the marathon 12-hour long surgery.
Prof. Manoj Kumar Sahu, Head of the department of Gastroenterology at IMS and SUM Hospital, said the surgical process began at 4 am in the morning and continued for 12 hours.
The beneficiary of the liver transplantation was Mr. Umesh Kumar Rout of Sambalpur, a 49-year-old teacher, who received a portion of the liver of his sister Ms. Anita Kumari (41). "Mr. Rout was suffering from end stage liver disease and the only option available was to go for liver transplantation to save his life," Prof. Sahu said.
A 40-member team, comprising doctors, nurses and paramedics from multiple specialties including Gastro Intestinal surgery, Hepatology, Anesthesia, Cardiology, Urology, Nephrology, Radiology, OT, Infection Control, Central Lab and Blood Bank had been constituted for the purpose earlier. A Memorandum of Understanding (MoU) was signed earlier between AIG and IMS and SUM Hospital for conducting the liver transplantation.
Explaining the procedure, Prof. Sahu said about 60 per cent of the donor's liver was first taken out while the diseased liver was removed from the patient simultaneously in a separate OT. The new liver was implanted with the surgeons attaching the arteries, veins and bile ducts perfectly. Rotem, a new technology was used to monitor the coagulation parameters of the recipient. Both the donor and recipient had been extubated after surgery, he said.
The surgery was supported by a 10-member team from AIG led by Prof. Menon, Director of Liver Transplantation, other members of the team being Dr. G.V.Premkumar, Dr. Shakti Swaroop, Dr. Krishna Chaitanya and Mr. Santosh Kumar Sahoo.  The core transplant team at IMS and SUM Hospital included, Dr. Sumit Mohanty, Dr. Satya Sundar Gajendra Mohapatra, Dr. Santosh Kumar Singh, Dr. Rajib Lochan Samal, Dr. Debakanta Mishra, Dr. Rajesh Kumar Bhola, Dr. Girija Nandini Kanungo and transplant coordinators Mr. Susanta Kumar Biswal and Mr. Saroj Senapati.
Prof. Menon expressed his satisfaction at the facilities available at IMS and SUM Hospital for such high-end surgeries saying the team members were very cooperative and fast learners. The hospital could emerge as a centre for transplant surgeries in the future, he said.
"It was the dream of SOA's Founder-President Prof. Manojranjan Nayak to start liver transplantation in Odisha and the first such surgery created history in the state," Prof. Sahu said.
Prof. Sahu, who has provided leadership for such surgeries in the hospital with the support of the Medical Superintendent, Dr. Pusparaj Samantasinhar, said liver transplantation had become a reality in Odisha when the first such surgery was conducted at IMS and SUM Hospital on March 5. A patient from Balasore, Mr. Jayanta Kumar Biswal had received a portion of the liver of his 18-year-old son in a successful transplant.
He said liver diseases had become very common in Odisha and many young people were dying without transplantation. "This had become a reality now in our state with liver transplantation being done at IMS and SUM Hospital at a very affordable cost," Prof. Sahu said adding Bhubaneswar was turning into a health hub for world class health care.
218 Views