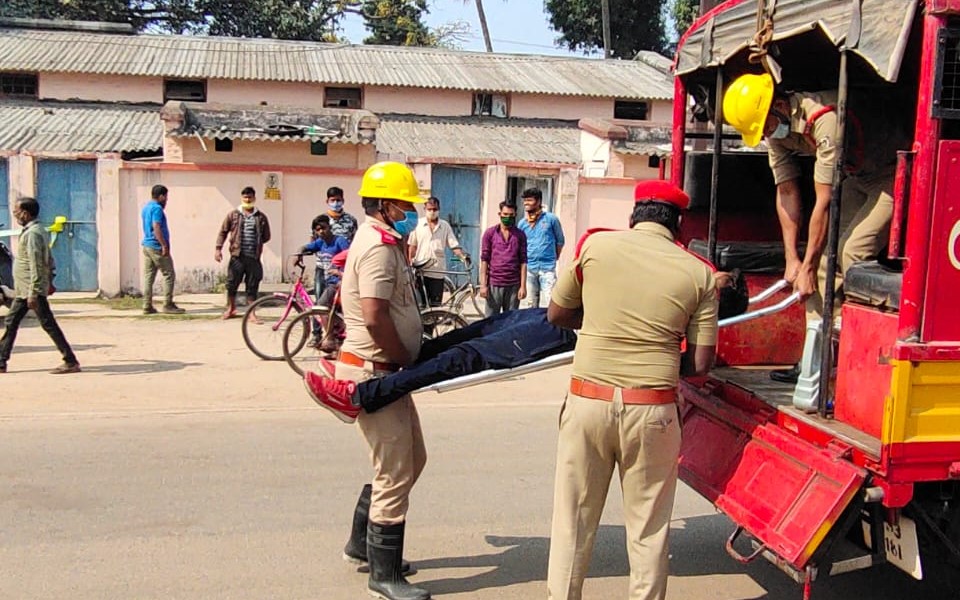 Bhubaneswar, The Railway Protection Force (RPF) officials of Khurda Road Division organised a Mock drill on Fire incident at Cuttack Railway station to check the alertness & preparedness of staff in case of emergency situation like fire incident at Railway stations.
As per the mock drill, on date 27.12.2020 at about 11.30 hrs. there was a report of fire incident in Route Relay Interlocking (RRI) building of Cuttack Railway station.
On getting information, the officials of RPF post, Cuttack under the supervision of Shri Pravin Kumar, Inspector/RPF/CTC rushed to the spot with available fire buckets and fire extinguishers to extinguish the fire and immediately the matter was informed to the fire brigade office, ambulance services, GRP and station Manager, Cuttack.
In this fire accident, about 10 Railway employees who were working inside the RRI building were confined and isolated. Till arrival of the fire brigade, the RPF personnel cordoned the area with rope and barricade.
In the meantime, 02 Nos. of fire brigade and one troop carrier van of Cuttack under the leadership of Shri Abani Kumar Swain, Assistant Fire Officer reached the spot and started extinguishing the fire. The firemen rescued the injured persons confined in the building and were sent to Hospital through ambulance.
The matter was spreaded amongst all the Railway employees and local people within a few seconds and the spot became crowded by the spectators. The rescue operation took half an hour for extinguishing the fire and to send the injured persons to the hospital.
On completion of the entire operation, the fire officer, IIC/RPF/CTC, IIC/GRPS/CTC, SMR/CTC with other officers and staff of Cuttack Railway station assembled and Assistant Fire Officer Abani Kumar Swain briefed the spectators that it was not a fire incident but it was a Mock Drill on fire incident organized by RPF staff, Cuttack to make the Railway men and passengers aware.
Later, a demo on how to extinguish fire with easy methods in case of fire incidents due to cooking gas and Patrol fire was briefed by the Fire brigade officials to the staff, passengers and public present at the Cuttack railway station.
220 Views