Raipur: Chhatisgarh Government's innovative Godhan Nyay Yojana – a brain-child of Chief Minister Bhupesh Baghel, has reaped rich dividends within a short span of three months.
Apart from providing livelihood to the countless cow owners cow dung vendors across the state, it has been promoting organic farming, women empowerment, cooperative movement and urban sanitation.
The scheme was launched on July 20 on the occasion of Hareli Parva –  the popular festival associated with farming – by the Chief Minister.
Under the scheme, cowsheds are being constructed in all the 11,630 gram panchayats while the government purchases cow dung at the rate of Rs.2 per kilogram.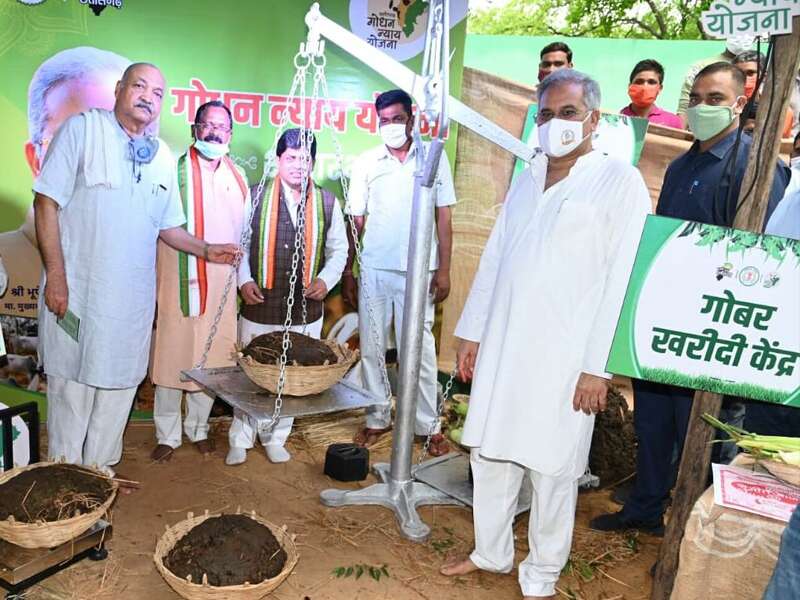 The Chief Minister takes personal interest and care to ensure that the amount of assistance to the beneficiaries are transferred directly to their bank accounts. So far, Rs. 29.28 crore have been paid to the cow owners and cow dung vendors, the officials handling the scheme informed.
Adding further strength to the scheme, the Chief Minister recently launched 'Godhan Vermi Compost', the packaged bag of vermi compost prepared by the Gauthans for large-scale marketing. The government has formed 5400 Gauthans across the state as cooperative societies.
Baghel has directed his government to exclusive engage women in packaging of the vermi compost through women self-help groups in all the district.
The Chief Minister has also advised the officials to form a team of veterinary scientists from Kamdhenu University to undertake research and recommend better use of cow dung.
Through this scheme, women SHGs are expected to generate vermi compost business of about Rs.800 crores, the officials estimated.
There is a huge market of vermi compost for organic farming. The scheme will encourage use of organic fertilizers that will minimise use of chemical fertiliser. Farmers apart, the departments like forest, agriculture and horticulture require a large quantity fertilizer at the time of plantation and cultivation. Godhan Vermi Compost would be an ideal answer for the huge requirement, the Chief Minister has pointed out.
The scheme will further prevent movement of stray cows on roads in urban areas, the officials hoped.