Bhubaneswar: Chief Minister Shri Naveen Patnaik today released the book "Where People Matter – 60 Years of Lokaseva Bhavan". It chronicles the journey of the iconic public building and its transition from a centre of authority to a people-centric workplace serving the people of the State. It is a commemorative edition to mark the sixtieth year of completion of the Lokaseva Bhavan, which was inaugurated in November 1959.
The book through vivid photographs throws light on the services and facilities available, rich architecture, lush gardens, history and offers homage to those who designed and built Lokaseva Bhavan. The publication has been made possible by a sponsorship from Odisha Mining Corporation Ltd and published by Public Relations Society of India.
Appreciating the publication, Chief Minister Shri. Naveen Patnaik congratulated the team and stressed on the importance of documentation for posterity. Shri. V K Pandian, Secretary 5T and Shri. Balwant Singh Managing Director of Odisha Mining Corporation attended the book release.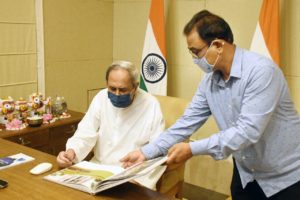 Forest Stewardship Council (FSC) based in Germany has certified that paper used for the book is made from responsibly sourced wood without causing any damage to natural forests. The publication has also been submitted to Google and Amazon for release as e-books and will be available very soon, at free of cost or a token charge.
The book is authored by Sri Amar Jyoti Mahapatra, Chairman PRSI Bhubaneswar Chapter and edited by Sri Sukanta Kumar Panda. Secretary PRSI BBSR Chapter Sri Sanjay Kumar Sahoo, creative designer Jyoti Ranjan Swain and photographer Ashis Dhir also joined the program .
The book is expected to enhance interest on the history of Odisha and Bhubaneswar, and also portray various programs of the Government that are currently underway.