Bhubaneswar, 455 Trainees of Indian Navy and Coast Guard of MR Batch 01/2020 graduated from INS Chilka at an impressive Passing Out Parade, held on 05 Jan 21. The ceremony marks the successful culmination of 12 weeks of ab-initio sailors' training at INS Chilka.
The parade was reviewed by Vice Admiral AK Chawla, PVSM, AVSM, NM, VSM, ADC, Flag Officer Commanding-in-Chief Southern Naval Command.
The Flag Officer awarded medals and trophies to meritorious trainees. He congratulated the trainees on parade for their impeccable turn out, smart drill and movements and exhorted them to develop the highest degree of professionalism, knowledge and competence in their respective careers that lay ahead of them.
He also complimented the instructors for having moulded raw recruits into fine young i'Sea Warriors', amidst demanding and stringent COVID protocols, without compromising on training regimen and quality.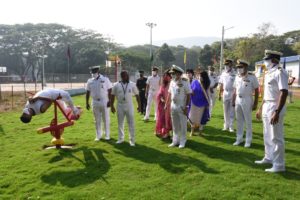 Alwin K R,Matric Recruit (MR) from Indian Navy and Akshay Kumar, Navik (Domestic Branch) from Coast Guard were adjudged the best trainees in their respective categories.
Earlier, on 04 Jan 21, the Admiral also witnessed the 'Valedictory Function' which showcased the talents of the trainees. A bilingual e-magazine "Ankur", was released jointly by Vice Admiral AK Chawla and Mrs Sapana Chawla, President NWWA Southern Region, in the presence of Commodore Rituraj Sahu, Commanding Officer, INS Chilka and Mrs Sangeeta Sahu, President NWWA, INS Chilka.
All the activities were undertaken adhering to strict COVID-19 protocols.