Samikhsya Bureau
The entire episode surrounding the alleged sexual harassment and conversions, which were reportedly carried on at a shelter home in Beltikiri in Dhenkanal district by Good News India (GNI), a non-governmental organisation now in radar, has had far more ramification than what has come to light.
And the state government, which has expressed concern over the excesses those were being perpetuated, is hardly left with any leeway to shirk the moral responsibilities. Once the expose is in public domain, it will be futile for the concerned authorities to duck and they are hardly left with any scope to hide behind mere regrets.
For the people, who watch the revelations through the media, can no longer be hoodwinked by any statistical sophistry of good NGOs and bad NGOs kind of jigsaw puzzle created by a calculated design to douse the fire. The women and child development ministry is now trying to plead ignorance and so also are the district authorities. But be it the Dream Centre in Beltikiri or any shelter home elsewhere, they are duty bound to answer how were they sitting with their blinkers on, completely oblivious to the dirty games played within such premises.
Once something came out, then all the machinery got geared up discovering the devils, perhaps, they had enjoyed a cosy relationship with hence. How on earth the government failed to know that over half a dozen homes run by a tainted NGO did not have the approval? Now the district administration will conduct raids and few arrests shall be made. Then, once the headwind becomes less intense, things will go as usual.
Lightly speaking, such actions reminisce the customary removal of roadside vendors before an event and then slowly allowing  them to reappear one by one. How do they come back!
Look at the pretensions of a system like that of the police, who have the knack to smell a rot at any depth, why its ante failed to trace such a huge and brain-twisting scandal. It has now pulled up its shocks with the director general of police asking the superintendents of police to play the 'Sherlock' to find the dark-underbelly of NGOs with whom they must have an old nodding acquaintance. Suddenly, the minister concerned has also started mouthing the homilies with political precision.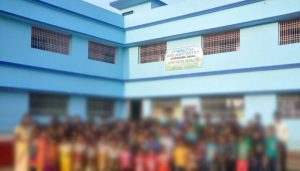 And what is interesting is the political divide on the issue. The Bharatiya Janata Party has come forward to slam the harassment and alleged religious conversions while the Congress does not endorse the conversion part for reasons best known to the party. A Congress spokesperson was heard saying in a television debate that, the video (in which the naming immersion is shown ),  on the conversion, cannot be taken as an evidence.