Samikhsya Bureau
It may pass through a cursory glance as one of his many tweets on several issues. But the one in which Prime Minister Narendra Modi has congratulated the Indian hockey team for its thumping victory against Canada should not be seen in isolation.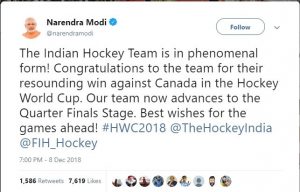 An indulgence of this kind from none other than the highest political executive of the country not only came as a big moral boost for the Indian team but his interest in tracking the details of the Men World Cup Hockey is a shot in the arms of the state.
At the same time, it has a lesson to offer to the ones who, from day one, had  looked at this through a political prism only. Leaders from the opposition and even few journalists have tried to demolish the spirit of the sport in terms very unbecoming at this juncture.
Some critics went the extra mile to point at the mega preparation as a big burden on the state exchequer and thought that the presence of either Shah Rukh Khan or Madhuri Dixit were avoidable ostentation costing the state in crores. Maybe they have a point or two, but during any such tournament anywhere in the world such grand ceremonies have become customary and may be a need to keep people in cheers.
No heckles are raised when extravaganzas are organised for other games. Let us imagine how much does a public rally by a top Indian leader costs. Whose money is that after all? How much sorties are made by many leaders of political parties during campaigns, blowing lakhs on hire and other expanses?
The Hockey World cup is undeniably a milestone for Odisha and let us not trivialise it by sending a message out of Odisha that we are in love with time pass idiocies.