By D.N. Singh 
The much awaited visit of Prime Minister Narendra Modi is over and who knows it better than the Bharatiya Janata Party cadres, who were waiting for a much needed respite through Modi's vitriol. That did not happen. And than too at a time when the dispensation here is ready to bludgeon any edge of discomfort from the opposition, politically.
What was strikingly discernible in the PM's speech was re-conciliatory in essence. At no occasion, throughout the day, he picked up any issue that seemed to be an attack on the alleged 'misrule' under the Biju Janata Dal spanning over 18 years. Modi, for whatever reasons, with all possible restraint and calibration, has not walked into the area of conflict to cross swords with Naveen Patnaik.
Modi was sober enough in his appeal to the people of Odisha to look for a change here and what was significantly missing was his sabre-rattling tone in comparison to his earlier two visits. Except the mention of his Ayushman Bharat Yojana and Odisha government's side-stepping on that matter, there was hardly anything upfront. Rest all were very common descriptions those might go as well relevant to a time when BJD was not here.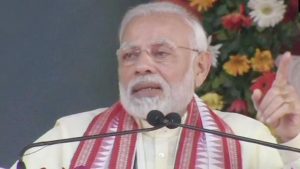 What made Modi so re-conciliatory in tone? It is all right that he, rightfully so, back-patted his government for thinking so much for the country and the state of Odisha where on Monday a hefty Rs.14,500 crore for projects was earmarked. But he has also gifted Patnaik with a million dollar sound sleep by not touching certain raw nerves that the party in power is so touchy about. It can well be construed as what must be going in the minds of the local BJP leaders here who always imagined that Modi would tailor a campaign with jibes and tirades at Patnaik.
Modi's tenor was a much changed one, lacking that glacial stabbing through words on issues like CBI or corruption, and so on. His body language was noticeably dull and the shreds of discomfort in his tone were clear.
Whatever be the reasons behind all that but Modi, after the last assembly election results, must have the fact-sheets in his pocket as what can happen post 2019. So his goal-post is now in Delhi and in such circumstances the regional players are very crucial.
That brings to mind the parable 'running with the hare and hunting with the hound' .