New Delhi: Prime Minister Narendra Modi inaugurated Phase 1 of Shri Kashi Vishwanath Dham in Varanasi Uttar Pradesh in the presence of over 3000 saints and dignitaries. The Prime Minister first reached Kaal Bhairav temple, known as the guard of the Kashi and offered prayers there.
The Prime Minister then reached Shri Kashi Vishwanath Dham carrying the holy Gangajal from the river Ganga through Kashi Vishwanath corridor. The Prime Minister will witness Ganga Aarti while on board a Ro-Ro Vessel in the evening.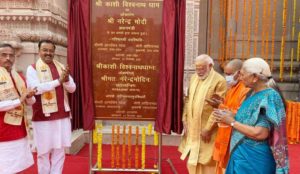 During the inauguration function Uttar Pradesh Chief Minister Yogi  Adityanath said that under the guidance and motivation of Prime Minister this auspicious day has come. He said the Kashi was earlier rebuilt by Maharani Ahilya Bai Holkar. He also said that Mahatama Gandhi dreamt of making Kashi clean when he visited the city and now Prime Minister Narendra  Modi has made his dream come true.
Phase 1 of Shri Kashi Vishwanath Dham has been constructed at a cost of around 339 crore rupees. The project is spread over a massive area of 5 lakh square feet whereas the earlier premise was limited to just around 3000 square feet.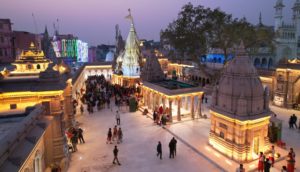 The Kashi Vishwanath Dham has been developed under the supervision of Prime Minister Narendra Modi. The Prime Minister laid the foundation stone of the Kashi Vishwanath Dham in March 2019. The project provides direct connect of Ganga Ghats to the Kashi Vishwanath Temple.
A total of 23 buildings were inaugurated in phase 1 of the project. A variety of facilities including Yatri Suvidha Kendras, Tourist Facilitation Centre, Vedic Kendra, City Museum, Viewing Gallery, Food Court etc are made available for the pilgrims visiting Kashi Vishwanath Temple. The project is designed to provide easy access for the disabled and old age people with provision of ramps, escalators and other facilities.