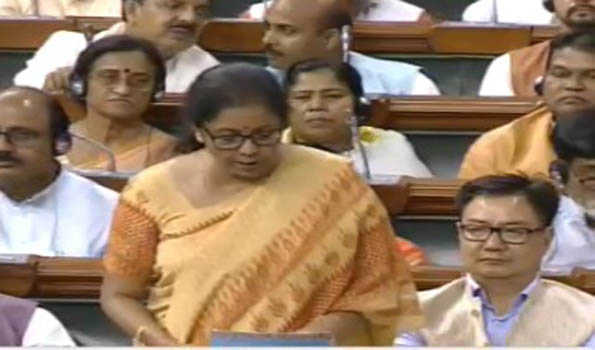 Samikhsya Bureau
Union minister for finance and corporate affairs Nirmala Sitharaman tabled the Economic Survey 2018-19 in Parliament on Thursday and strongly emphasised the need to reduce Economic Policy Uncertainty in the country in order to foster a favourable investment climate. 
The survey said that to achieve the vision of 5 trillion dollar economy by 2024-26, India needs to shift its gears to accelerate and sustain a real GDP growth rate of 8 per cent. Further, it put thrust on the need for a robust and resilient infrastructure to create a 10 trillion dollar economy by 2032
The Economic Survey has stated that higher Economic Policy Uncertainty discourages investment while predictability of policy action and broad consistency in actual policy attract investment. While noting the reduction in Economic Policy Uncertainty in India over the past decade, the survey has given a set of recommendations to ensure that it stays at low levels in the coming years to ensure growth in investments.

The survey goes on to say that based on the globally recognised EPU Index, the Economic Policy Uncertainty in India has reduced significantly over the last decade. Economic Policy Uncertainty was the highest in 2011-12, coinciding with the years of policy paralysis. Since then, it has declined secularly, with intermittent increases in between.

The survey also notes that Economic Policy Uncertainty in India moved in tandem with global uncertainty till 2014. However it started diverging since early 2015 and seems to have completely decoupled in 2018. In recent times, while the economic policy uncertainty has been increasing across the world, including US, UK and China; India's Economic Policy Uncertainty has been falling.

The survey notes that after falling for a decade since 2008, investment activity in India turned the corner since Q1 of 2017-18. Fixed Investment Rates that fell from 37 pc in 2007-08 to 27 pc in the following ten years, recovered to 28 pc recently. A secular trend of reducing Economic Policy Uncertainty may have helped to foster the turnaround in investment activity.

The survey further notes that Economic Policy Uncertainty also correlates strongly with the macroeconomic environment, business conditions and other economic variables that affect investment. Surges in Economic Policy Uncertainty increase the systematic risk, and thereby the cost of capital in the economy. As a result, higher economic policy uncertainty lowers investment, especially because of the irreversibility of investment. Consistent with this thesis, an increase in economic policy uncertainty dampens investment growth in India for about five quarters.

"Unlike generic economic uncertainty, which cannot be controlled, policymakers can reduce economic policy uncertainty to foster a salutary investment climate in the country. In view of the above, it has made the following recommendations for policy changes," the survey stated.
First, policymakers' must make their actions predictable, provide forward guidance on the stance of policy, and reduce ambiguity/arbitrariness in policy implementation and maintain broad consistency in actual policy."
To ensure predictability, the horizon over which policies will not be changed must be mandatorily specified so that investor can be provided the assurance about future policy certainty.
The government could also use labels such as "Standstill" versus "Ratchet up" to categorise various categories of policies according to the level of commitment about future certainty that it can provide.
The survey stated that "what gets measured gets acted upon". So, Economic Policy Uncertainty index must be tracked at the highest level on a quarterly basis. Government must also encourage construction of Economic Policy Uncertainty sub-indices to capture uncertainty stemming from fiscal policy, tax policy, monetary policy, trade policy and banking policy.
Finally, quality assurance of processes in policy making must be implemented in Government via international quality certifications. "The adage of "Document what you do, but more critically do what you document!" must be implemented in the government. The process of certification will require training of personnel in following quality assurance processes and will significantly reduce economic policy uncertainty," it added.
5 trillion economy by 2025
The survey suggested a "shifting of gears" to sustained economic growth for objective of 5 trillion dollars economy by 2024-25.
The survey departs from traditional thinking by viewing the economy as being either in a virtuous or a vicious cycle, and thus never in equilibrium. Rather than viewing the national priorities of fostering economic growth, demand, exports and job creation as separate problems, the Survey views these macroeconomic phenomena as complementary to each other.
Learning from the global financial crisis, the economy has been viewed as either in a virtuous cycle or a vicious cycle and therefore the concept of equilibrium economics has been disbanded. Second, rather than trying to tackle various economic challenges of demand, jobs, exports et cetera in silos, the survey makes the case that these phenomena are all complimentary. Therefore, creating the virtuous cycle with investment, especially private investment, as the main driver can enable growth in each of these important macro variables.
Treating people as humans and not as robots as in classical economics, creating data as a public good, enhancing the legal system for enforcement of contracts, insuring consistency of policy with the blueprint are some aspects that have been discussed in the survey.
This year's survey also utilises advances in Behavioural Economics to address issues of gender equality, a healthy and a beautiful India, savings, tax compliance and credit quality. It recognises the role of social norms in the success of initiatives such as 'Beti Bacho Beti Padhao', 'Swacch Bharat Mission' and 'Jan Dhan Yojana' to effect behavioral change.
The survey stated that the policies must focus on enabling MSMEs to grow by unshackling them. Sitharaman said, "For reorienting policies for growth in the MSME sector, the Economic Survey states that MSMEs that grow not only create greater profits for their promoters but also contribute to job creation and productivity in the economy."

Job creation in India, however, suffers from policies that foster dwarfs, ie small firms that never grow, instead of infant firms that have the potential to grow and become giants rapidly.

While dwarfs, i.e., firms with less than 100 workers despite being more than ten years old, account for more than half of all organized firms in manufacturing by number, their contribution to employment is only 14 per cent and to productivity is a mere 8 per cent. In contrast, large firms (more than 100 employees) account for three-quarters of such employment and close to 90 per cent of productivity despite accounting for about 15 per cent by number.

Size-based incentives that are provided irrespective of firm age and inflexible labour regulation, which contain size-based limitations, contribute to this predicament.
To unshackle MSMEs and thereby enable them to grow, all size based incentives must have a sunset clause of less than ten years with necessary grand-fathering.
Resilient infrastructure for growth
Putting thrust on the need for a robust and resilient infrastructure to create a 10 trillion dollar economy by 2032, the survey stated that the government has initiated a number of measures such as Start-up India, Ease of Doing Business, Make in India, Foreign Direct Investment Policy reforms in crucial sectors to accelerate higher manufacturing growth and India has considerably improved its ranking to 77th position from the previous 100th among 190 countries, in the World Bank Ease of Doing Business Report in 2018.

It stressed on innovative approach under PPP to bridge investment gaps in infrastructure. In an analysis of the Industry and Infrastructure sectors of the country, it noted that India needs to build a robust industry with a buoyant and resilient infrastructure.

The industrial growth rate in terms of Index of Industrial Production (IIP) during 2018-19 stood at 3.6 per cent as compared to 4.4 per cent growth rate in 2017-18. The moderation in 2018-19 has been mainly on account of subdued manufacturing activities in Q3 and Q4 due to various reasons like liquidity crunch, slower credit flow.

Meanwhile, the eight core infrastructure supportive industries have achieved the overall growth rate of 4.3 per cent during 2018-19 similar to the increase achieved in 2017-18.

The government is playing a proactive role in investment promotion through a liberal FDI policy. During 2018-19, total FDI equity inflows were US$ 44.36 billion as compared to US$ 44.85 billion during 2017-18, the survey said.

Building sustainable and resilient infrastructure has also been given due importance with the formulation of sector specific flagship programmes such as Saubhagya, PMAY. Road construction grew at the rate of 30 km per day in 2018-19 as compared to 12 km per day in 2014-15. Rail freight and passenger traffic grew by 5.33 per cent and 0.64 per cent respectively in 2018-19 as compared to 2017-18.

About the road sector, it noted that highways construction in the country touched a new high of 30 km per day in 2018-19 as compared to about 12 km per day in 2014-15. This was achieved through proactive policies that include process streamlining, better inter-ministerial coordination, steps to address languishing projects, innovative project financing leveraging both private and public funds, streamlining land acquisition processes. The investments in the sector rose from Rs 51914 Crore in 2014-15 to Rs158839 cores in 2018-19.

Some of the major outcomes in the road sector during the period 2014-15 to 2018-19 include construction of Eastern and Western Peripheral Expressways around Delhi, Delhi-Meerut Expressway, Chenani-Nashri tunnel in Kashmir, Dhola-Sadiya Bridge over Brahmaputra in Assam.

The survey said in the shipping sector, as on January 31, 2019, India has a fleet of 1405 ships with Dead Weight Tonnage (DWT) of 19.22million (12.74 million GT). Ports handle 90 percent of EXIM cargo by volume and 70 percent by value. Expansion of port capacity has been accorded highest priority under projects like Sagarmala, Project Unnati etc. The Ministry of Shipping has taken many steps towards facilitating Ease of Doing Business. These include steps for reducing dwell time and transaction cost at major ports.

India's scheduled domestic air transport for passenger and goods rose by 14 per cent and 12 per cent respectively in 2018-19. Domestic passenger traffic in Revenue Passenger KM (RPK) recorded the fastest growth in the world at about 20 per cent for over 50 consecutive months upto December 2018. New Greenfield airports are being developed very fast.

Regarding the telecom sector, it noted that total telephone connections in India rose to 118.34 crore in 2018-19 from just 93.3 crore in 2013-14, registering a growth of 26.84 per cent. 51.42 crore connections are in the rural areas. Wireless telephone constitutes 98.17 per cent of all subscriptions. The overall tele-density in India stands at 90.10 per cent, the rural tele-density being 57.50 per cent and urban tele-density being 159.66 per cent at the end of March 2019.
Clean energy
The survey stated that the priority for the government is to ensure access to sustainable and clean energy sources. It said that the government initiated a big step in the form of Pradhan Mantri Ujjwala Yojana, providing access to around seven crore households under the scheme. "The task now is to ensure that households with LPG continue to use the clean fuel for cooking purposes through continued refilling," said the survey. .

It says that India has achieved almost 100 per cent household electrification of 21.44 crore households. While renewable energy capacity has been expanded manifold, fossil fuel based energy is likely to continue.

The survey said that while the share of LPG as a cooking fuel had increased over the years, the share of households reporting it to be as the primary source of energy for cooking has been low compared with the urban areas. The access to clean cooking fuel has increased considerably in the recent years.

The survey said that Direct Benefit Transfer for LPG consumer (DBTL) Scheme namely PAHAL has been launched in 54 districts of the country on 15 November, 2014 to rationalise subsidies based on approach to cut subsidy leakages.

As on 5th March, 2019, 24.39 crore LPG consumers have joined the scheme. The survey mentions that PAHAL has been recognised by the Guinness Book of World Records as the world's largest direct benefit scheme.
40 Views