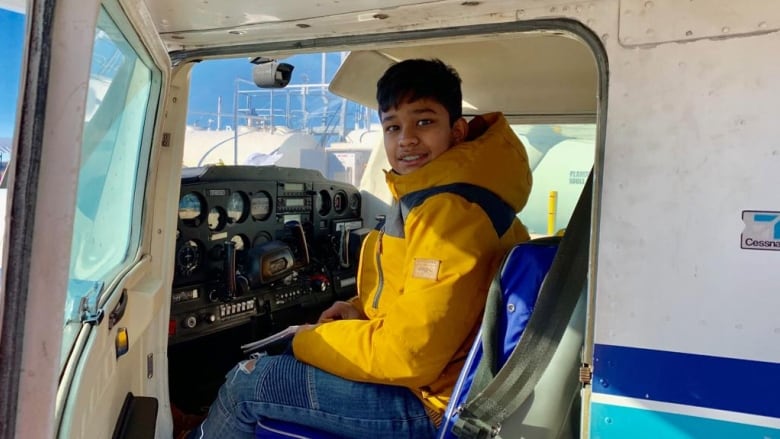 "Use the wings of the flying universe and dream with open eyes."
The quote best applies to the 14-year-old boy Mohammed Faizy, whose passion for flying since childhood made him world's youngest pilot taking his first solo flight in a fixed wing aircraft Cessna 152 and achieve a new feat.
The teenager who was born in Nagpur but now lives in Canada has become the youngest known pilot in the world to fly solo in a fixed-wing aircraft.
Mohammed Faizy, resident of Mississauga city (General Toronto area, Canada), has already submitted application to the Guinness Book of World Records to register his feat.
Mohammed, whose mother Jumana Faizy used to live at Itwari in Nagpur before her marriage and being shifted to Canada, was elated to share this news to UNI. Jumana is a doctor of physical therapy and Faizy's father, a civil engineer.
Talking to UNI over phone from Canada, Jumana said that her son flew solo just after 22 hours of training, beating the previous record of 25 hours of training by Mansoor Anis from UAE. Another 14-year-old US pilot Jonathan Strickland took 34 hours of training. Faizy broke the record of Anis and Strickland from USA for the youngest pilot category, she said.
Strickland holds the existing record of the youngest pilot in the world to fly a fixed-wing aircraft at 14 years and 4 months in the Guinness Book of World Records.
In Canada the age limit to take a solo pilot permit is 14 years, as compared to 16 years in US.
Faizy has received the certificate for his first solo flight from Brampton Flying Centre, Canada. His first solo flight was about 20 minutes long, during which he taxied the aircraft from the parking bay to the runway, took off for a flight of about 15 minutes and landed back.
The solo flight happened on December 18, 2018 at the Brampton Flight Center, Caledon (in Greater Toronto Area, Canada). Faizy grew up playing on the flight simulator. His sister Zahabia Faizy who got her private pilot licence, took him on a ride few times when he was only aged 11.
Faizy took his first flight in Vancouver with the flight instructor when he was 12-year-old. He enjoyed watching the scenery from the top and felt free like a bird. Since then, he was very passionate about flying.
He took his flight training lessons at the Brampton Flight Centre, Caledon, the proud mother added. (UNI)
467 Views