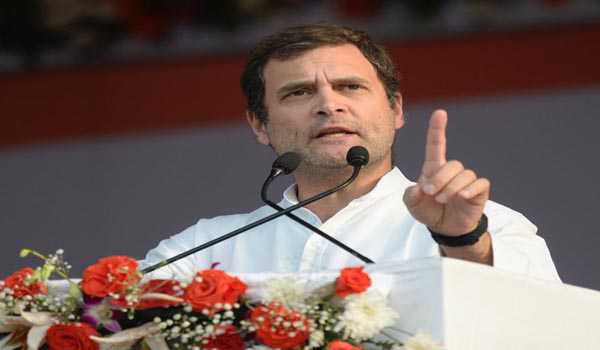 Samikhsya Bureau
Charging the Modi government with adopting pro-capitalist policy and working against the interests of farmers and poor, Congress president Rahul Gandhi on Monday said that the party would provide minimum income guarantee to the poor if it was voted to power at the Centre in Lok Sabha elections.
Addressing 'Kisan Abhaar Sammelan' at Atal Nagar (Naya Raipur), Rahul Gandhi said that Congress opened closed doors of bureaucracy under Right to Information Act besides providing food security under Right to Food Act and employment to the people under Mahatma Gandhi National Rural Employment Guarantee Act (MGNREGA).
Taking another step forward, the party would provide guarantee of minimum income to the poor after coming to power at the Centre in 2019, he said.
Chhattisgarh chief minister Bhupesh Baghel and senior Congress leader P.L. Punia were also present at the rally. After coming to power in Chhattisgarh, Madhya Pradesh and Rajasthan, the Congress has waived off the farmers' loan in the three states.
According to him no other country in the world has so far made provision of providing minimum income guarantee. The Congress would perform this historical task in India, he said, adding that a fixed amount would be transferred on behalf of the government to bank accounts of the people. This would ensure betterment of the poor, he said and added that nobody would remain hungry and poor.
Launching a scathing attack on Prime Minister Narendra Modi, Gandhi said,  "Modi wants to divide India into two countries — one for Ambani, Mehul Choksi, Nirav Modi, Vijay Malya and his other industrialist friends with land, water, electricity and loan facilities and another for the poor, farmers, labourers and unemployed who have nothing."
But Congress will not let him do this, he added.
Later Gandhi also took to Twitter to make his big annoucement. "We cannot build a new India while millions of our brothers & sisters suffer the scourge of poverty. If voted to power, the Congress is committed to a Minimum Guarantee Income for every poor person, to help eradicate poverty & hunger. This is our vision & promise," he tweeted.
(With UNI input)
Tags:
465 Views