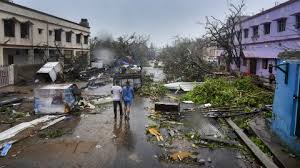 Samikhsya Bureau
Thousands of workers, some of them from outside Odisha are working day and night to restore the water, power supply, internet service and banking service at the earliest in the five worst Cyclone Fani affected districts.
Information and public relations secretary Sanjay Singh told news persons in Bhubaneswar that the water supply in all urban areas had been restored to the pre-cyclone level.
He said the panchayatiraj department and the drinking water department on the direction of the government were trying to restore piped water supply in rural areas in all affected district by May 13.
Earlier, the target was to restore the pipe water supply in all the rural areas of the affected district in next seven days but the time limit was reduced on the direction of the government, Singh said.
A mobile water treatment plant has been sent to Mahakalpada in Kendrapara distinct, two to Astaranga and Kakatpur in Puri district and eight more are being arranged for Puri to provide drinking water to the people affected by the cyclone.
The water supply to all government and private hospitals have been restored on a priority basis except Puri and Khurda.
In Puri, the power supply has been restored in 12 government health facilities and nine in Khurda. In Cuttack, Kendrapara and Jagatsinghpur, water supply have been restored in all the community health centres and district headquarters hospitals.
Singh said in order to speed up the relief and restoration work the government had decided to award three gram panchayats in each block who have performed better in the distribution of relief, organising free kitchen and sanitation. A cash prize of Rs.5 lakh would be given to the GP that performs the best, a cash prize of Rs.3 lakh to the second and Rs.2 lakh to the third placed GPs. Singh said all GPs in cyclone districts were authorised to spend Rs.1 lakh from their fund for the relief and restoration work.
As many as 943 JCB machines, tractors and 5,000 workers are working in the field of sanitation in Puri to prevent any outbreak of an epidemic.
233 Views