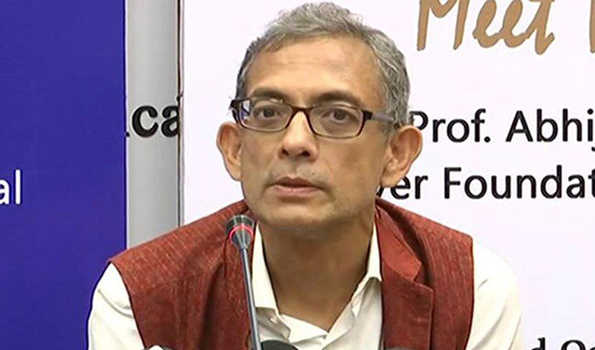 Nobel Laureate Abhijit Banerjee, who arrived the city last evening after meeting Prime Minister Narendra Modi in New Delhi, on Wednesday paid a visit to renowned poet and novelist Nabanita Dev Sen.
Banerjee inquired about the health of the ailing Sahitya Akademi awardee at 72 Hindustan Park. Dev Sen gifted her book " Bhalobashar Baranda" to Banerjee, who had some refreshments at her residence.
The economist then went for shopping to Fab India in the neighbourhood, where he spent around 45 minutes. Fab India store employees said Banerjee purchased a girl's churidar set and a boy's kurta sherwani set from the kid's section.
He also purchased a kurta set from the women's section, they added.
The economist has been a regular at the store, which sells mainly handloom products, the employees said as Banerjee told them. Abhijit Banerjee, Esther Duflo and Michael Kremer won the Nobel Prize for their "experimental approach to alleviating global poverty."
"The research conducted by this year's Laureates has considerably improved our ability to fight global poverty. In just two decades, their new experiment-based approach has transformed development economics, which is now a flourishing field of research," the Nobel committee said in a statement. (UNI)
53 Views