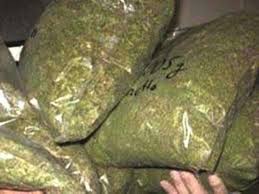 In probably one of the biggest catches of recent times, the North & Middle Andaman district police seized around 15 kg of Ganja on October 25 from Mayabunder Port of North Andaman.
"There were inputs that some of the shipments being carried in the containers of passenger ships are carrying the contraband substance. Based on that, a police team was deployed on jetty since the last
passenger ship Swaraj Dweep arrived at Mayabunder from Kolkata and each and every package was being checked as and when the containers opened," Mr. Vichitra Veer, Superintendent of Police of North & Middle Andaman District informed media today.
This led to a huge success on Friday when, the police team headed by Mr Hukma Ram (SDPO Diglipur) came across a person who was trying to avoid the checking of packages and his name is Ashok Biswas (54), a resident of Subashgram, Diglipur Island, North Andaman.
"When he was made to open the packages, it was found that there was around 15 kg of Ganja in that. legal proceedings have been started in matter and further investigation has been taken up," the SP said.
Such huge success by Andaman Police will be a huge morale boaster for Andaman Police unit and huge setback for drug traffickers.
Tags:
12 Views