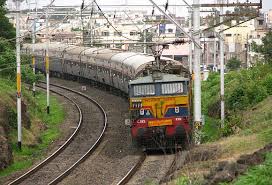 Railway authorities and people lighted candles on Dhaba bridge near Rafiganj railway station in the district late last night to pay their tributes to those 130 passengers abroad Howrah-New Delhi Rajdhani Express who lost their lives after the prestigious train jumped off tracks 17 years ago.
Railway authorities and local people besides lighting memorial candles also observed one minute silence to pay their tributes to deceased passengers and also worshipped tracks praying God for not recurrence of an accident on such a horrifying scale in future.
It is not for the first time that candles were lit for paying tributes to deceased passengers but people from Aurangabad and Rafiganj were doing it every year for the last 17 years. The memory of fatal accident is still fresh in minds of local people recounting the moments with shock.
Altogether 13 compartments of New Delhi bound Rajdhani Express had plunged into a river after breaking parapets of Dhaba railway bridge near Rafiganj railway station of East Central railway leaving 130 passengers dead and 400 others injured. The water level in the river was not high still compartments of the prestigious train climbed on each other causing loss of human lives on such a scale. (UNI)
30 Views