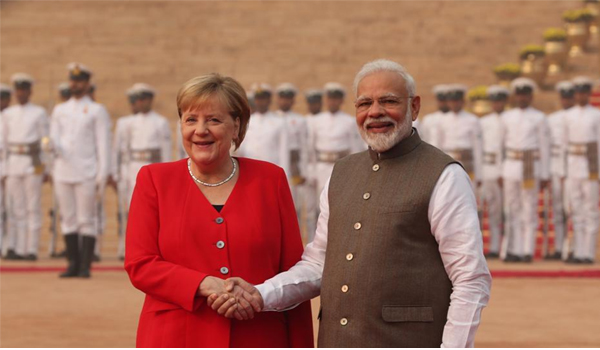 German Chancellor Dr Angela Merkel, who is on a three-day visit to India, was given a ceremonial reception at the Rashtrapati Bhawan here on Friday. The visit is expected to strengthen bilateral economic and strategic ties.
Prime Minister Narendra Modi received her at the Rashtrapati Bhawan. Both the leaders will co-chair the 5th India-German Inter-Governmental Consultations here. "I am delighted to be here in India. Germany-India are linked by very close ties," Ms Merkel said. The visiting dignitary also paid homage to Mahatma Gandhi at Rajghat.
Later in the day, she will hold talks with Prime Minister Narendra Modi and this is likely to be followed by Exchange of Agreements and Press Statements. Chancellor Merkel will also meet President Ram Nath Kovind. On Saturday, the visiting dignitary will hold a meeting with a business delegation and also visit Metro Station at Dwarka Sector 21.
Notably, Chancellor Merkel's visit comes days after the German Parliament passed a resolution calling for the need for Germany to upgrade its ties with India. According to media reports, German Foreign Minister Heiko Maas described India as a "pillar of stability" in South Asia.
He further has said: "It would be dangerous from a European point of view to constrict Asia policy too much to China, especially as we have a partner in India that is much closer to our values and our understanding of democracy". (UNI)
Tags:
31 Views