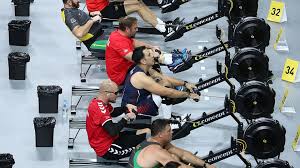 India emerged champions bagging 16 golds, 13 silvers and
12 bronze medals in the maiden WYCH-ELM International School Indoor Rowing Championship, organised by Bengal Water Sports, which concluded at Khudiram Anushilan Kendra here.
Bangladesh finished second with 3 golds, 5 silvers and 5 bronzes and were followed by Nepal winning 1 gold , 1 silver and 3 bronze while China earned one silver.
More than 1100 students, both boys and girls took part in this meet, sponsored by city based Sportsalay, a technology based full service sports facility and mentorship organisation.
The winners were qualified for the final rounds here after preliminary rounds where
a total of more than 75,000 school students, both boys and girls, from different states of India and neighbouring countries like Bangladesh, Nepal, Bhutan and China who
took part during last one year.
Among the Indian states West Bengal garnered maximum four golds, 2 silvers and three bronzes and were followed by Punjab ( 3- 4 – 1), Boys Sports, Army ( 3 – 3 – 2),
Maharashtra ( 3 – 3 -2) , Haryana ( 2-1-1), Chandigarh ( 1 – 0 – 3) and Odisha ( 0 – 1 – 0 ).
Indoor Rowing is a comparatively new sport and gaining popularity all over the round. It is simulated condition like that of rowing without oars and is being held indoor on hard surface instead of an water body.
(UNI)
46 Views