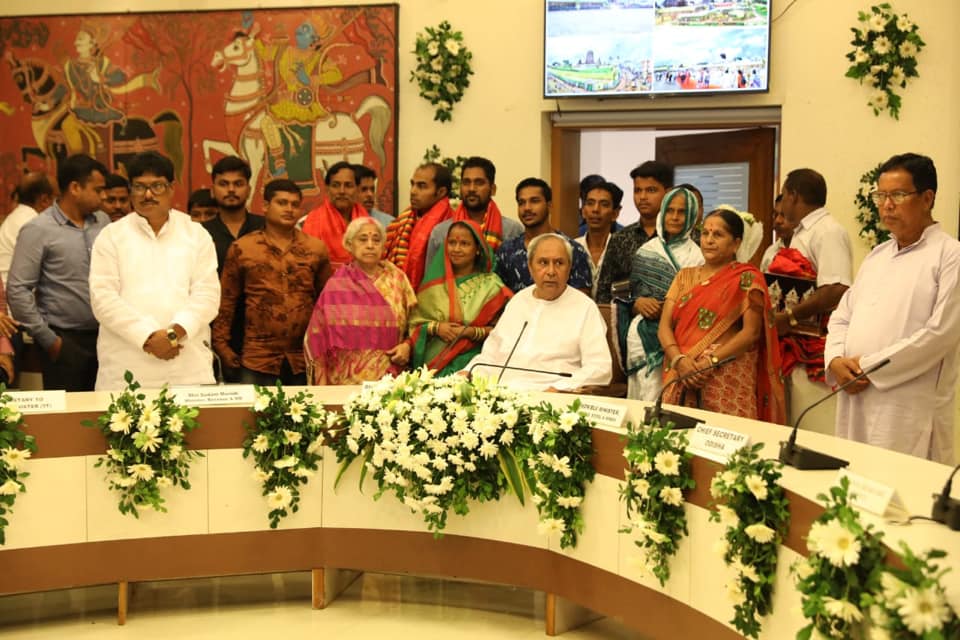 Samikhsya Bureau
Bhubaneswar: Odisha Chief Minister Naveen Patnaik today felicitated members of eleven families who have voluntarily offered their land for the security of Sri Jagannath temple, Puri and development of the heritage zone. Mr Patnaik presented a replica of Lord Jagannath, Lord Balabhadra and Devi Subhadra made of sliver filigree to the member of each of the eleven family members at the Lok Seva Bhavan here.
Highly appreciating the contribution, the Chief Minister said,  " The people of Odisha will remain grateful to you for your sacrifice and contribution." The future generation will remember the families for all times for their sacrifice for the security of the Sri Mandir and the development of Sri khetra, Mr Patnaik said.
The Chief Minister appealed to other people to accept the package of the state government and give land voluntarily for the services of Lord Jagannath. Mr Patnaik said " I am very happy that you have accepted my request to give land for the security of Srimnadir. People of Odisha will be grateful to you for your contribution."
He said Sri Mandir is the invaluable property of the Odias and Lord Jagannath is the identity of Odias. Mr Patnaik said the Odisha government has announced a very good package for those who are giving land for security and safety of Sri Mandir. It is a matter of great pleasure that eleven families have taken advantage of the package. Others should consider it as a service of the Lord and take advantage of it and cooperate in the noble work like the security of the Sri Mandir, Mr Patnaik said.
The Chief Minister said your great service will create a new history in the service of Lord Jagannath. The future generation of Odia will remember your sacrifice for all time, he said. The district administration has identified private land within the 75-meter radius of Meghnad Prachir of Jagannath temple to be acquired for the security and safety of the temple as well as the pilgrims.
The administration had announced a ten per cent hike on the land cost if anyone voluntarily sells his land to the administration. The amount would be paid in addition to compensation given as per the rehabilitation and resettlement Act 2013.
The initial survey indicated that about 298 private landholdings located in Baselisahi, Manikarnika sahi, Markandswar sahi, Kalikadebi sahi, Balidahi and Dolamandop sahi mouzas need to be acquired for creating the 75-metre corridor around the Meghanad prachir of Sri Jagannath temple.
Tags:
17 Views