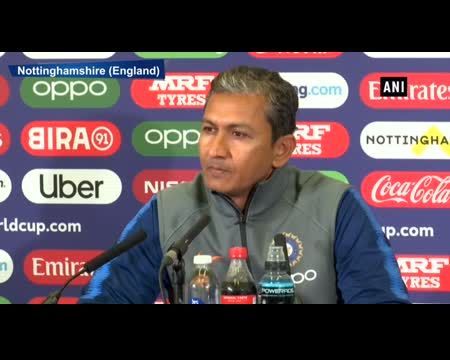 Team India batting coach Sanjay Bangar on Wednesday said injured opening batsman Shikhar Dhawan is being closely monitored by the team management and might recover in the next 10-12 days.
"We are monitoring Shikhar Dhawan. He may take 10 to 12 days to recover. We will assist him. Vijay Shankar is one of the options, if and when required. It's good to have back up. Rishabh Pant will be in Manchester," Bangar told the mediapersons on the eve of India's third match in against New Zealand in the ICC Cricket World Cup here on Thursday.
Dhawan who striked a century 117 had fractured his left thumb while playing their second match against Australia which India won at The Oval in the ICC Cricket World Cup on Sunday. 
Dhawan is likely to remain out of action against New Zealand on June 13, Pakistan June 16, and Afghanistan June 22. However, he would be fit to play against West Indies on June 27. 
Earlier, on Tuesday, the Board of Control for Cricket in India (BCCI) said Shikhar Dhawan will be kept under observation and no replacement will be named yet. However, Rishabh Pant has been called into England as cover for Dhawan. He will reach England on June 14.
Bangar said while it was good to have a back-up, the Indian team will provide every assistance to Dhawan to get their star opener back on to the field as soon as possible. (UNI)
Tags:
11 Views