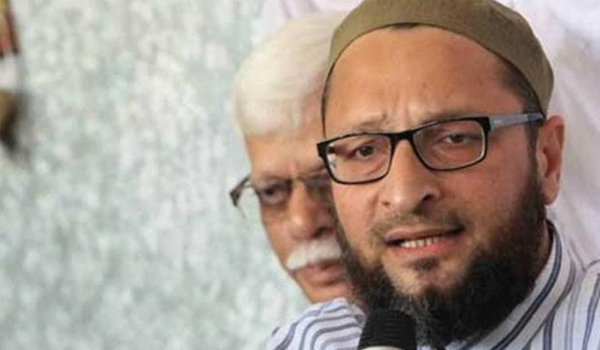 AIMIM chief and Hyderabad MP Asaduddin Owaisi has charged a section of people with propagating Mahatma Gandhi's assassin Nathuram Godse's ideology at a time when the entire country is celebrating 150th birth anniversary of the 'Father of the Nation'.
He also appealed to save the Constitution given by Bharat Ratna Dr Babasaheb Ambedkar and raised slogan like 'Jai Bhim, Jai Bhim', in a public rally here on Wedneday night at Aamkhas Maidan.
On this occasion, the party state president Imitiaz Jaleel and all the party leaders– Naser Siddqui, Arun Borde, Gaffer Kadri– among others party office-bearers shared the dais.
In his speech  Owaisi said Gandhiji, who started fasting for Kudobuddin Bakhtar's Dargah, was assissnated by Godse because he loved the minority community, he alleged.
He further alleged that till today, some of the people were spreading violence and hatred each against and appealed to the young generation to the protect the country from such people.
Responding to a London court ruling in favour of the Nizam of Hyderabad and against Pakistan in connection with £35 million funds,  Owaisi said Nizam Mir Usman Ali had deposited one million pounds abroad for the education of his descendants. India has the right to get the money and Rs 450 crore would be coming to India.
He urged Prime Minister Manmohan Singh to spend fund, remaining after giving Nizam's descendants, in solving the water problem in Aurangabad.  (UNI)
44 Views