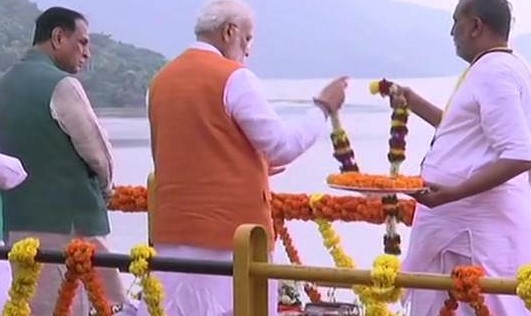 Kevadia, Gujarat, Sep 17 (UNI) Prime Minister Narendra Modi, who turned 69 on Tuesday, offered prayers to  river Narmada at Sardar Sarovar Dam site in Gujarat. Mr Modi, who has his day packed with various programmes in his home state, visited the Sardar Sarovar Dam on the Narmada river, whose water level has reached its highest mark for the first time. He will be inaugurating the "Namami Narmade" festival later.
"Have a look at the majestic 'Statue of Unity', India's tribute to the great Sardar Patel," wrote Mr Modi while attaching a beautiful video in the tweet. Mr Modi reached Kevadia earlier and visited the Ekta Nursery, situated in the vicinity of the Statue of Unity. The nursery manufactures various traditional eco-friendly products and offers a live demonstration of their manufacturing process to the visitors.
Prime Minister Modi made a visit at the Butterfly Garden and Cactus Garden in Kevadiya, Narmada district. Gujarat Governor Acharya Devvrat and Chief Minister Vijay Rupani  were also present. Mr Modi also visited Khalvani Eco-Tourism site and also enjoyed Jungle Safari Tourist Park in Kevadiya.
43 Views