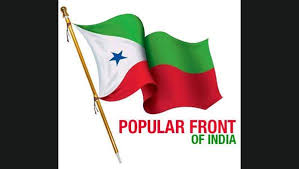 New Delhi, Nov 9 (UNI)The Popular Front of India (PFI) on Saturday said the Supreme Court's verdict on Ayodhya land dispute is 'unfair' and expressed disappointment.
Though the details are still awaited, as per reports, the apex court has handed over the Babri Masjid land for the construction of a temple. And the Muslims are allowed to build Masjid in an alternate land to be allotted to them.
"The apex court has reiterated the facts that Masjid was not constructed after demolishing any temple and agreed that the placing of idols in the Masjid in 1949 and demolition of the Masjid in 1992 were violations of law. But unfortunately, contrary to these approved facts, the entire land of the demolished Masjid is handed over for temple construction. The court direction to give alternate land to Muslims for Masjid is insignificant and bears no justice", said PFI general secretary M Mohammad Ali Jinnah in a statement.
Earlier in the day, the apex court has handed over the 2.77 acre disputed land for the construction of temple and the Muslims are allowed to build Masjid in an alternate land to be allotted to them.
The PFI further said that they apprehend judgment has serious repercussions not only on the minority rights but also on the very foundational principles enshrined in the Indian constitution.
"World was witness to the various incidents of organised vandalism against Babri Masjid ultimately leading to its demolition. The promise by the then Prime Minister that the Masjid will be rebuilt in the same land still remains unfulfilled", it said.
The PFI also stated that all democratic and legal means will be resorted for justice to Babri Masjid "which was built by Muslims and used by them for worship for centuries".
"We stand with All India Muslim Personal Law board and UP Sunni Waqf Board in their future struggle for restoration of justice", the statement added.
The PFI also called upon all sections of people to maintain peace and harmony all over the country.
36 Views