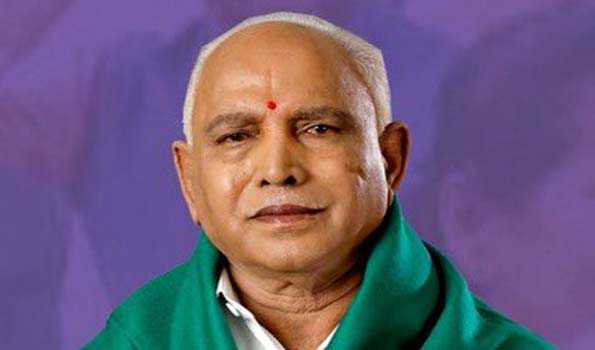 New Delhi, Nov 2 (UNI)Taking serious note of the video of Karnataka Chief Minister BS Yeddyurappa in which he was allegedly heard saying that operation Kamala took place in the state on the instructions of BJP national leadership, including Home Minister Amit Shah, the Congress on Saturday termed the matter 'shocking' and said it will approach the Supreme Court.
The video, which has gone viral of Yeddyurappa addressing the BJP core committee meeting in Hubli, also, allegedly heard saying about the case before the Supreme Court, filed by defected Congress, JD(S) MLAs.
'It is shocking', said AICC general secretary in-charge of organisation and Karnataka, KC Venugopal at a press conference at in the party headquarters and added that the party will approach the Supreme Count.
'We kept saying that under the leadership of Prime Minister and Amit Shah, the BJP government is misusing all the government agencies like CBI, ED and IT to poach the opposition MLAs and to sabotage opposition led governments. Now it is established beyond the doubts, because of video evidence,' said  Venugopal.
The Congress leader stated that in the video Yeddyurappa was telling in the video that  Shah had managed entire poaching episode in the Karnataka.
'He was telling that  Shah has managed hotel stay arrangement for the MLAs in Mumbai. This is what we were telling earlier also. Now there is concrete proof for it',  Venguopal added.
He alleged that the BJP government is trying to misuse the Supreme Court also, added that ' Yeddyurappa was telling that the apex court may give relief to the defected MLAs and they can contest the election.'
'The matter is subjudice and the Supreme Court has reserved the order in this case. It is a matter of serious concern that the Chief Minister was telling that the verdict will be in favour of the MLAs. What does it mean? They are misusing CBI, IT, ED and now they are misusing the apex court as well. Supreme Court should take up this matter very seriously and take action accordingly',  Venugopal added.
He questioned the Prime Minister and Home Minister's stand on this issue and demanded a response from them. Seventeen MLAs of Congress and JD(S) defected their respective parties which led to the fall of the Congress, JD(S) coalition government in the state.
The MLAs had approached the Supreme Court after the then speaker Ramesh Kumar had disqualified them and barred contesting polls for the duration of the Assembly, which ends in 2023.
101 Views