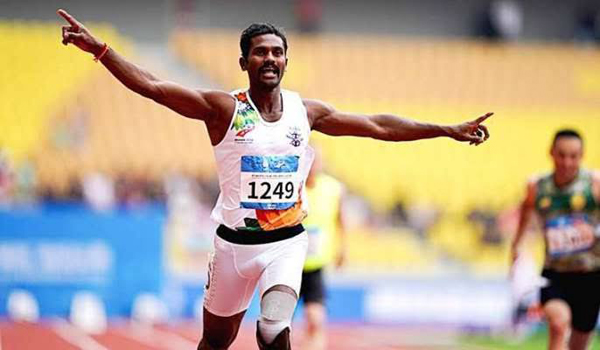 Subedar Anandan Gunasekaran, Para Athlete of Madras Engineering Group & Centre (MEG & Centre) was felicitated here on Saturday for winning three Gold medals in the recently concluded Seventh Military World Games held at Wuhan, China. Anandan, who won in 100 meter, 200 meter and 400 meter events, on his arrival was taken in an open jeep to the MEG Headquarters where Brigadier TPS Wadhawa, Commandant felicitated him for his achievement, according to a press release here.
Subedar Anandan was also qualified for Tokyo Olympics 2020 after securing Gold medal in 200 meter event in recently conducted Handisport Open Paris 2019 (Olympic Qualify Round). Subedar Anandan, is a battle casualty where he suffered mine blast injury resulting in amputation below left knee and under gone surgery. An artificial leg was specially designed and given during the rehabilitation. He is a keen sportsmen and was subsequently sponsored by Madras Engineering Group & Centre for running blade. In IPC Athletics Grand Prix-2014 held at Tunisia from 12 to 19 Jun 2014 he won Gold in 200 meter and also participated in Seventeenth Asian Games at Incheon.
He under the supervision & guidance of Madras Engineering Group & Centre Athletic Coach practiced with prosthetic blade in 100 meter& 200 meter distance in T44 Category. Individual later participated in Sri Lanka Army Para Games at Colombo from 16 – 18 Sep 2015 Indian Army and Paralympic Committee of India had sponsored the individual for the participating in the subject event in the event at Sri Lanka he improved his timing to 12.29 secs in 100 meter event winning a Silver Medal. He individual obtained Gold in 200 meter category where fourteen countries participated in Sri Lanka Army Para Games.
Subedar Anandan is the first Indian Para Athlete in T-44 category to bag medal for the Army in the World Para Military Games and break the Asian record. In 2018 he participated in Para Asian Games 2018 held at Jakarta from 06-11 Oct 2018 won silver in 400 meter and bronze in 200 meter events in 7th Military World Games 2019 being conducted at Wuhan, China he won three Gold medals in 100 meter, 200 meter and 400 meter events. He also qualified for Tokyo Olympics 2020 after securing Gold medal in 200 meter event in recently conducted Handisport Open Paris 2019 (Olympic Qualify Round).. (UNI)
6 Views