Bhubaneswar: The Swarnim Vijay Varsh Victory Flame arrived at INS Chilka on 27 October . The Victory Flame was received from AD Centre, Gopalpur and was given a ceremonial reception. Cmde NP Pradeep, Naval Officer in Charge (Odisha) and Commanding Officer, INS Chilka along with Officers and Ship's Company saluted the Victory Flame at the War Memorial.
The trainees of INS Chilka ran with the Victory Flame before handing it over to Mashaal Toli. Twelve 1971 war veterans along with members of Navy Foundation (Odisha) as well as Veteran Sailors Forum (Odisha) also paid their respects to the Victory Flame. A movie highlighting the important operations carried out by the three forces was screened, which was followed up with interaction of the war veterans, who shared their experiences in the historic 1971 war. Later, they were felicitated by the Station Commander. The Victory Flame was also taken to Chilka lake by trainees in DK Whaler as a fitting tribute.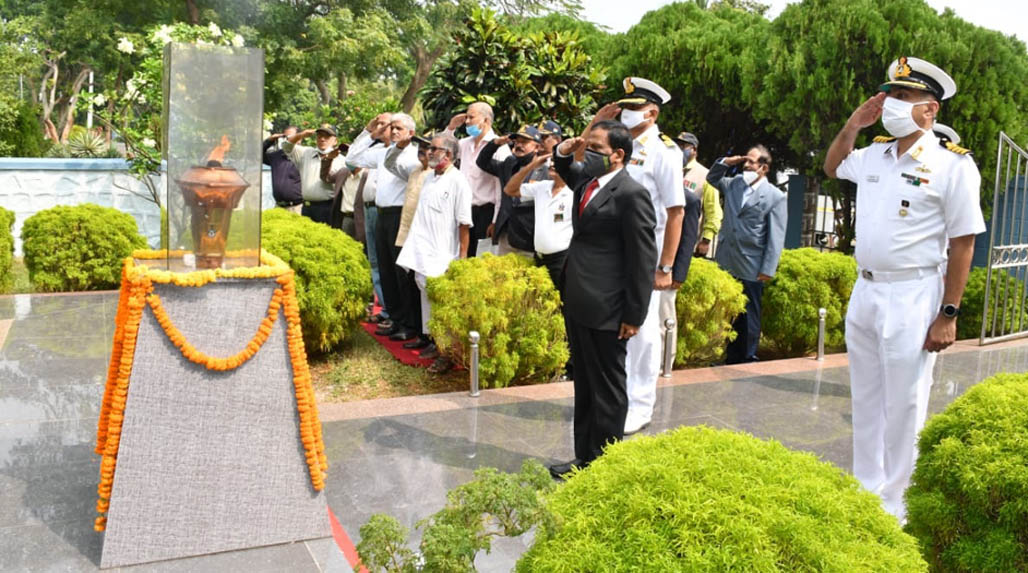 The Victory Flame was later paraded to various places within the base including INHS Nivarini, Naval Kindergarten, Kendriya Vidyalaya, MES unit and Sailors residential area. Post completion of the reception activities of the Victory Flame at INS Chilka, it is planned to hand over the Victory Flame to 120 TA Battalion of Army, Bhubaneswar on 29 October.