The Samikhsya Bureau
BHUBANESWAR: The three-day annual Dhauli-Kalinga Mahotsav, staged at the foothills of Dhauli near here, concluded on Monday with presentation of Odissi, Kuchipudi and Sareikala Chhau dances.
The first presentation of the evening was Ananya Odisha (unique Odisha), a classical and folk fusion in Odissi dance style by Naibedya troupe from Bhubaneswar.
The next presentation was Kuchupudi by Shambhavi School of Dance from Bengaluru led by its founder and eminent exponent Vyjayanthi Kashi.
The third presentation of the evening was Odissi dance by Nrutya Nilaya troupe from Odisha's Angul town led its director Swapnarani Sinha.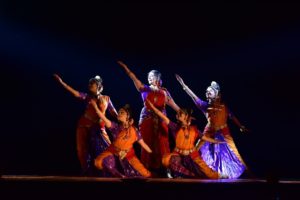 The concluding presentation of the final evening was Sareikela Chhau dance by Acharya Chhau Nrutya Bichitra troupe from New Delhi led by its founder and director Shashadhar Acharya, a renowned exponent.
Former State Chief secretary Asit Kumar Tripathy, presently the Chairman, Western Odisha Development Council; Subroto Bagchi, Chairman, Skill Development Authority of Odisha; Susmita Bagchi, Chairperson, Mo School Aviyan of Odisha Government and Sachin Ramachandra Jadhav, Director, Tourism were the guests of the evening.
The festival was collectively hosted by the Department of Tourism of the State Government, Odisha Dance Academy and Art Vision – both Bhubaneswar based Odissi dance institutions.
The three-day event, telecast live on Doordarshan and streamed live on social media, was anchored by popular singer Nazia Alam and popular compere Srinivas Ghatuari in English and Odia respectively.