The Samikhsya Bureau
BHUBANESWAR: The 14th Guru Debaprasad Award Festival, staged at Rabindra Mandap here by city-based  dance institution, concluded on Monday.
The closing evening of the three-day event commenced with Guru Debaprasad Award presentation to three exponents of Indian classical dances – Ghanakanta Bora from Assam for Sattriya, Aruna Mohanty from Odisha for Odissi and Gopika Varma from Kerala for Mohiniattam.
Former ministers Prafulla Kumar Samal and Debiprasad Mishra, Bishnupada Sethi, Principal Secretary of the Department of Odia Language, Literature & Culture and former Vice Chancellor of Sambalpur University Priyambada Mohanty Hejmadi presented the awards.
Besides, Guru Debaprasad Prativa Awards were presented to Manoj Kumar Behera, Prativa Panda, Binod Chandra Sahu and Poulomi Mandal on the occasion.
The award presentation ceremony was followed by dance recitals.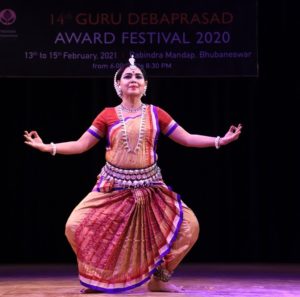 Aruna Mohanty presented her own choreography – Biswa Prakasha – that was based on Bhima Bhoi's poetry for which music was composed by Gopal Chandra Panda.
Mohiniyattam dancer Gopika Varma staged her own choreography – Bisweswar Darshan Kar Chal Man Tu Kashi – a Swathi Thirunal composition.
The final presentation was Sattriya dance by Guwahati-based Anwesha Mahanta, disciple of the awardee Ghanakanta Bora.