The Samikhsya Bureau
BHUBANESWAR: Pleased over the coveted "Blue Flag" tag for the Puri beach, Chief Minister Naveen Patnaik has directed the Department of Tourism to explore beach tourism.
Odisha has the distinction of having above 450 kilometres of coastline with a number of scenic and virgin beaches suitable for beach tourism.
The Chief Minister has directed the concerned department of his government to develop the Chandrabhaga beach at Konark and the Talasari beach of Balasore district as world-class tourist destinations at a priority basis.
He has set October 2021 as the target for completion of the development and beautification drive.
Presiding over a high-level meeting, the Chief Minister stressed on priority to tourism development in order to attract more domestic and foreign tourists.
He directed to develop one kilometre area at Chandrabhaga beach on the Konark-Puri Marine Drive route with facilities of water-sports, recreation centre, cycle track, children's activity centre and pedestals to enjoy sunrise and sunset.
He also suggested to include adventure sports in the master plan.
Similarly, the Chief Minister asked to develop an area of 2.4 kilometre at Talasari beach.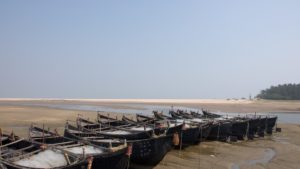 There should be an amphitheatre, restaurants and centre of art and craft in addition to the other amenities and attractions, he pointed out.
He asked the officials to encourage entrepreneurs for investment in construction of standard and budget hotels for Talasari beach.
The Chief Minister stated that maximum importance should be given to security arrangements for the tourists at both the beaches.
He has further advised the officials to explore more of such beaches of Ganjam and Puri districts to vie for the "Blue Flag" tag.