Shyamhari Chakra
NEW DELHI: The renovated house of Assamese literary icon Lakhminath Bezbaroa located on the banks of Mahanadi river in Odisha's Sambalpur town is ready to welcome visitors soon.
The Department of Tourism of the state – better known as Odish Tourism – will take over possession of the historic house from Indian National Trust for Art and Cultural Heritage (INTACH) that has renovated it.
The literary legend lived in the western Odisha town of Sambalpur for 20 years since 1917 to supervise his family business of railway sleepers.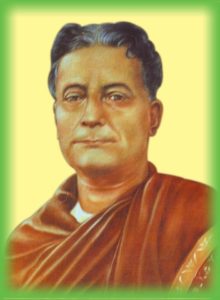 He had constructed two houses in the town in 1924 – one for his office and the other for residence. Before his final return to Assam in 1937, he had gifted the house to his eldest daughter Aruna Mukherjee in 1934.
However, decades of negligence of the heritage house had made it an abandoned place till heritage lovers in Assam and Odisha raised their voice for its restoration.
The house is currently in the possession of Orissa State Government.
The abandoned was planned for demolition to pave way for the development of a rotary junction at the Nelson Mandela Chowk where the house is located.
However, following reports in the media about the demolition plan followed by stiff resistance by the literary circuits and heritage conservationists, the Cultural Affairs Minister of Assam visited Sambalpur and took up the matter issue with Odisha Chief Minister Naveen Patnaik who ordered for its conservation.
While Government of Assam earmarked Rs.one-crore from the Chief Minister's Special Fund and has already provided Rs.50 lakhs for the restoration work, Odisha Government has also contributed Rs.55 lakhs so far for it.
INTACH took up the restoration during December 2018 and completed it in a record time of two years.
The 96-year-old renovated building would be inaugurated on March 26, the death anniversary of Bezbaroa. March 26 is observed as Sahitya Divas across Assam.
Bezbaroa House, as it is popularly known, would be converted to a museum with a library that would have a complete collection of books of Bezbaroa and books written on him besides his portraits and other memorabilia associated with his life and work.
An oil portrait of the writer, unveiled in 1968 to commemorate his birth centenary – that adorns the Sambalpur Municipal Council Hall – will be transferred to the museum.
Born in 1868, Laxminath Bezbaroa married Pragyasundari Devi, niece of the poet Rabindranath Tagore. He is popularly referred to as 'Roxoraj', the coveted title decorated by the prestigious Assam Sahitya Sabha. O Mur Apunar Dex, a patriotic song composed by him, is the State Anthem of Assam.