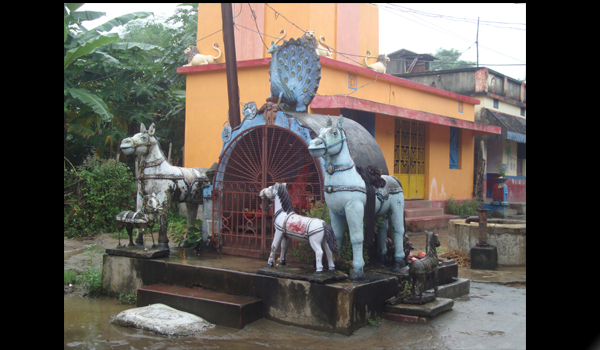 Samikhsya Bureau
Kendrapara, Notwithstanding  restriction imposed by Odisha High Court on animal sacrifices at all Devi shrines in the state, as many as 47 goats were sacrificed at the Shakti cult of Maa Budhi Jagulai  in Osangara  village under Pattamundai police station on Saturday night
The goats were slaughtered in the name of sacrifice during Sandhi puja in Asthami Day of Durga puja despite  protest by the wildlife activists. The age ?old rituals of  sacrificing animal still manages to hold sway among devotees and a video clip of animal sacrifice at Maa Budhi Jagulai shrine in Osangara village  went viral today in social media.
According to sources, Sacrificing of  animals  has an age-old  tradition in the shrine  during the Sandhi Puja, in the Asthami Day of Durga puja. The devotees believe that the best way  to appease the goddess and  to take blessing from the deity is by sacrificing animal .Though the local administration and the law enforcing machines are very much aware of the vent , they prefer to remain silent as it relates to the strong faith and   belief of  the locals to  propitiate the Goddess as a mark of fulfillment of their prayers.
The wildlife lovers condemned the act of slaughtering  innocent animal mercilessly  in the name of appeasing the deity at Maa Budhi Jagulai shrine. The local administration and the police department should take stern steps for violation of the High court's order on animal sacrifice, said Pratap Chandra Padhi, a social activist and wildlife lover.
He said there is law which stipulated that no one can knowingly allow such a sacrifice to be performed at any place of religious worship or any place under. And if someone gives an animal sacrifice in the cult or other places then the person will  be sent  to the jail under the provision of Local Municipal Corporation Act , pollution Act, prevention of Cruelty to Animals Act ,1960, Wildlife (Protection ) Act ,1972 and Indian Penal code (IPC) section 268 of IPC ,1860 .
The penalty for contravention is a fine and /or imprisonment, but the sentiments of devotees and locals continue to overrule all such efforts here in the district, Biraja Prasanna Pati, a wildlife activist said. When contacted SDPO of Pattamundai, Ranjan Kumar Dey, said  he would conduct an inquiry on the incident and take appropriate step on the  basis of the  investigation.
25 Views