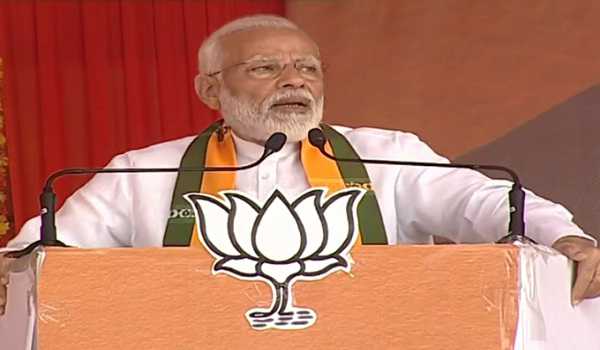 Launching a scathing attack on Congress on Saturday, Prime Minister Narendra Modi said the grand old party and its allies have always had an approach, which had never respected the traditions, culture and heritage of the people of the country.
Addressing a rally in Haryana's Sirsa, the Prime Minister alleged that the approach and attitude Congress displayed for the sacred places in the country, was similar to what they were showing for Jammu and Kashmir.
For around 70 years, people of the valley continued to face problems, he said, adding that innocent people kept dying in the valley, while the brave hearts from Haryana and other places in the country kept sacrificing heir lives, to save the people in valley.
For such a long period, people in the valley belonging to different castes and creeds were kept away from the the Constitution, given by Baba Saheb Ambedkar, to the nation, he added.
He further lashed out at the Congress and its allies, saying that now, when the BJP government has freed the people from the long period of injustice, Congress and its allies are speaking against the move and protesting against the same.
Sharpening his attack further, Modi said the then government kept sleeping in Delhi and made the situation in Kashmir, from bad to worse.
He said when a part of Kashmir went away as PoK , they kept silent and made the situation worse, the Sufi tradition was burried, the roots of Kashmir that had Sufism, were finished forcefully and nothing was done.
In continuity, there was disparity created between the region. Jammu, Ladakh and Kargil were neglected and discriminated, leading to deaths of Kashmiri Pandits, their daughters being raped and finally, leading to their forceful exit from the valley. (UNI)
19 Views