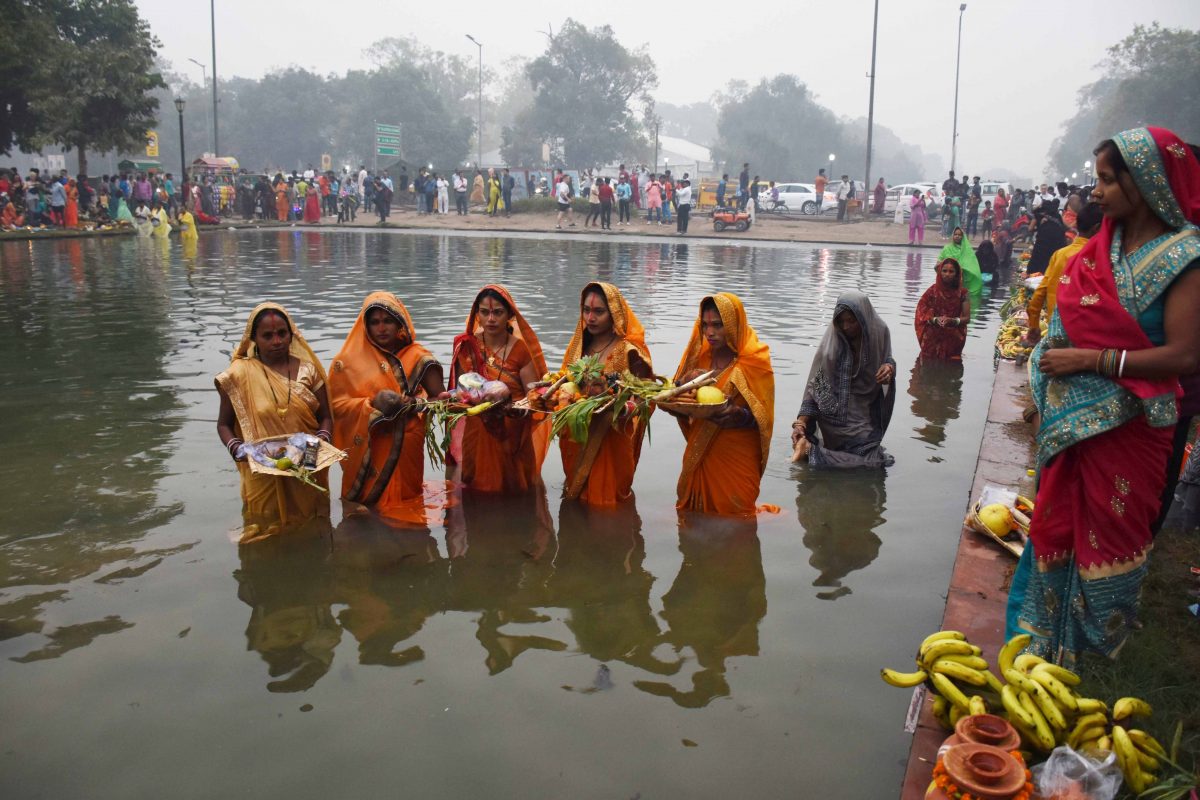 Phagwara/ Phillaur, Nov 2 (UNI) Traffic jams were witnessed on Highways between Phagwara and Ludhiana as lakhs of migrants were on their way to the Sutlej near Phillaur and Chachoki Canal in Phagwara for Chhath Puja ritual on Saturday. Ladhuwal Police made elaborate arrangements near Sutlej River and DSP Phagwara Surinder Singh Chand monitored the situation himself in Phagwara.
Most of the devotees parked their vehicles near the toll plaza in Ladhowal to avoid paying the toll tax, which caused inconvenience to commuters in the evening. Three-day Chhath Puja festival is being celebrated in Phagwara, Phillaur, Goraya, Apra, Bilga, Noormahal and Nakodar by a large number of migrants from Uttar Pradesh and Bihar. Thousands of devotees were seen standing knee-deep in water bodies and offering prayers.
Shanti, one of the devotees, said, "Devotees sleep on the floor and wear non-stitched clothes for three days. At sunset, holy water and milk are poured in river or canal and 'Argya' is offered. On the next day, prayers are offered to the rising sun." More than two lakh devotees from Phillaur, Ludhiana and adjoining areas, performed Chhath Puja on Saturday evening by offering 'ark' to the setting sun on the banks of the Sutlej in Phillaur and around 40,000 migrants in the the Chachoki distributary in Phagwara. A mela-like atmosphere prevailed at the Chachoki canal on the periphery of Phagwara. Migrants burst crackers, illuminated their houses and organised langar. Youths volunteered to regulate the traffic on the GT road.
Nowadays, even Punjabis take a fancy to the festival as they too were seen participating in the religious ceremony. Some of them did so owing to political compulsions while others just out of curiosity. Some of them brought trolleys of raddish, while others gifted apple boxes. Punjabi women too observed Chhath fast. Chhath is marked by rigorous fasting for two days during which even drinking of water is prohibited and women pray for the well being of their children.
Vijay Kumar, Ravi Kumar and Anil Kumar said the real name of the festival was Ravi Khashti Vrata that means a fast for the sun, observed six days after Diwali. A traffic jam was witnessed on the Sutlej Bridge near Phillaur and in Phagwara near Chachoki canal on Saturday evening, which lasted few hours. As a large number of migrants participated in Chhath Puja on the banks of the Sutlej, the area witnessed a heavy rush. The traffic police successfully control the traffic. Commuters and passengers faced inconvenience. Vehicles, including buses, remained stranded for some time.
25 Views